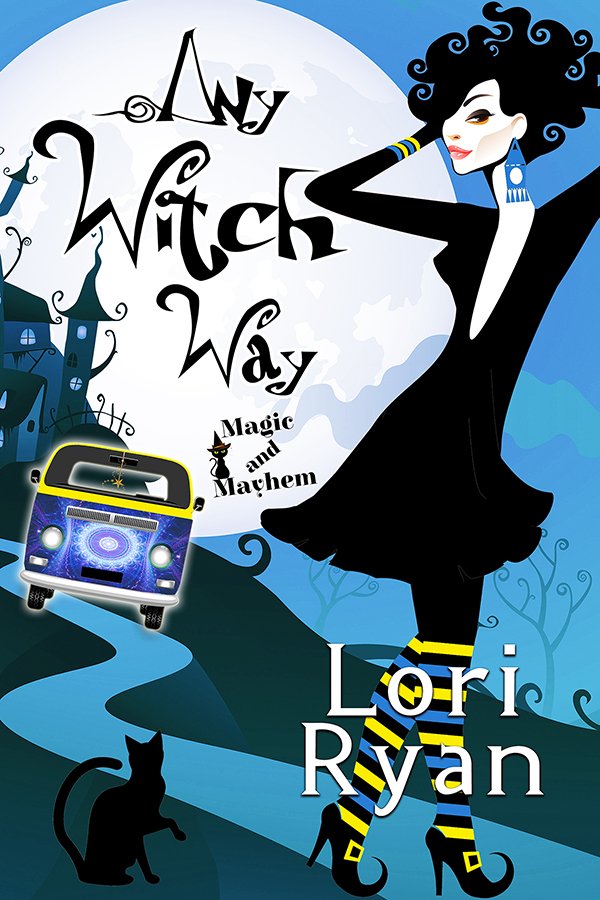 Any Witch Way is Lori's fun foray into Robyn Peterman's Magic and Mayhem Kindle World! Jump in to the story to meet Baba Yaga's brother, the Boogeyman! You won't regret it;)
Published:
June 22, 2016
Genres:
Excerpt:
Chapter One
"Slithering fuck." This was the last thing Gideon needed.
"That's a new one." He'd know that voice anywhere. Looking over his shoulder, he wasn't the least bit surprised to see his sister, Carol—known to every other witch and warlock in the world as Baba Yaga, the leader of all witches and warlocks—grinning back at him. She wasn't the least bit repentant that she'd just summoned him.
"I was busy. You can't just summon me whenever you damned well please," he said, even as he tugged her into a bear hug. He couldn't help it. He was a softy for her, even when she pissed him off.
READ MORE
She scoffed. "I'm the only witch who can summon the Boogeyman. Being Baba Yaga has its benefits. Why wouldn't I take advantage of that from time to time, baby brother?" This was said in the tone that indicated they were speaking only as brother and sister at the moment, not the Boguman and Baba Yaga, two of the highest positions in the magical world.
"By a minute," Gideon grumbled. As his twin, she never once let him forget he'd come into the world a minute after her. "And it's Boguman. The correct title is Boguman."
"If I have to be Baba Yoda, you can put up with the Boogeyman every once in a while."
"What the hell are you talking about?" Gideon flexed his fingers. He really didn't have the patience for this right now. He'd been right in the middle of teaching a little boy not to tease his brother about wetting the bed. And he had a long line of unruly children to visit after that one.
"Never mind," she said with a wave of her hand. "Besides, it's been over fifty years since I last summoned you. I'd hardly say I'm abusing the power."
"What do you want, darling sister?"
"Fine." She conjured a chair and sat. It was the first time he noticed she wasn't dragging around the ugly little warlocks she normally had with her. Small favors, and all that. "I have an emergency."
"Uh huh." Carol's emergencies typically had to do with her pet porcupine escaping or a prom dress mishap she thought he could somehow fix. Then again, maybe he wasn't giving her enough credit. It had been a long time since she'd had one of those episodes.
She stomped her foot. That didn't worry him, but the smile that crossed her face a second later did. It was the smile that said she was about to do something he would want to strangle her for. "Fine, if you don't want to take the time to listen, I won't bother to explain."
With that, his twin promptly bound his feet to the ground—a trick she'd learned to do using roots back when they were kids. It never took him very long to break loose, of course, but it always allowed her the two seconds she needed to get away. With another curse, he rolled his eyes to the heavens, although he wasn't sure why. He'd given up praying to the Goddess a long time ago.
A quick zap freed his feet, but not before he smelled it—a scent that threw him back two hundred years. Not quite lilacs, more a combination of lilacs in the spring and summer waves at the beach. At one time that scent had meant everything to him, but now all it did is make his blood boil instantly. What in the living hell was she doing back here? And why had his sister set him up to be here when it happened?
"What the hell is this, Carol?" he yelled to the sky, because his sister was nowhere to be seen. If he couldn't yell at her, the sky would have to do. "Answer me! You brought her back?"
"Of course not, silly." Carol's voice came from nowhere in particular. "She brought herself back. I just felt her coming and thought you should be here. She'll need you."
A form took shape at the top of a small rise in front of him as the air left Gideon's lungs. He hadn't felt like this in a long time. Like he'd had the wind knocked out of him in a visceral blow. There was only one person who could do this to him. And now she stood before him at the top of the hill, arms raised high as if announcing her arrival, as gorgeous and bewitching as ever.
She beamed as she looked around, as though she thought there should be some kind of band or fanfare announcing her arrival. She always had liked a party. And back in the day, he'd loved that about her. She was fun and exciting, and things were never boring when she was around.
He'd grown up a lot since then.
He opened his mouth to yell for his sister again, but the love of his life moved toward him and stopped him cold.
She looked just as he'd remembered her. Just as she'd lived on in his dreams for more than a century and a half. Wild black locks and creamy skin. The taste and feel of that skin had never left him. It haunted his dreams, whether he was awake or asleep. It didn't matter. She was always with him, even though she was gone. He'd felt her everywhere.
That was probably one of the reasons he'd never been able to move on. That and the fact that he no longer had a heart to give. Sure, he'd slept with other women. He wasn't a freaking priest. But it was sex and nothing more. There'd never been any chance of giving his heart to someone else. Not when she'd crushed the damned thing beneath her heel on the way out the door.
He was about to be down one twin. Never mind waiting for Baba Yaga to summon him again. When he was finished here, he was going to hunt down Carol, or Baba Yaga, or Baba Yodels, or whoever the hell she was, and throttle her good. Carol knew damn well what she was doing when she left him stranded here. And she knew damn well this was the last place on earth he'd want to be.
He watched as the woman he both loved and hated with all his being stepped forward, arms still raised as if gracing him with her presence. She smiled that smile that made his heart flip over and beg for more.
And fell.
She tumbled head over heels with a few rather inelegant oofs and achs and maybe a curse or two in there. Gideon had to clench his fists against the urge to catch her, and when that pissed him off, he bit down on his tongue. Hard. He was not going there again. No way in hell he was getting involved with her again. No way in hell he'd let her tear what little there was left of him apart again.
"Aghoof." The sexy vixen sat up, brushing her mop of curls back out of her face as she spat a wad of grass from her mouth and looked around.
***
That was a bit of a rough landing.
"I had hoped that would go a lot more smoothly." She picked herself up and brushed off, looking down with pleasure at the form she'd taken. Not bad, not bad at all. A cute skirt, purple high-heeled shoes, little pink painted nails. All in all, not a bad package. She'd done good.
The ride had been a bit dizzying, though.
"Oh!" She spun as a growl came from her right. No, not just a growl; it was a guttural, inhuman sort of sound. But it came from a god. An absolute drop-dead gorgeous blond bombshell of a god. Of course, it wasn't like she had a frame of reference for that sort of thing. For all she knew, maybe he was on the uglier side of the scale.
But no. That wasn't possible. He was strong, with arms and a chest that stretched the fabric of his shirt taut and made her fingers tingle to reach out and touch him. He had gorgeous blond hair that would probably feel thick and soft, and so good in her hands. His mouth looked positively sinful, and those eyes seemed to heat her from the inside out. And there was something about him that drew her to him. That called to her, despite the growl and the look in his eyes.
Dark eyes. Oh, and right now, they were focused on her and looking madder by the minute. Oops. She'd messed up somehow already.
"I'm sorry," she said, taking a step toward the warlock. "Is something the matter?"
"Something the matter?" He said each word slowly and it was punctuated with—well, she didn't know with what. Anger? Hatred, even? That didn't make sense. She had only just arrived. Certainly he couldn't hate her for any reason.
She raised her arms and took a deep breath, ready to announce who she was to the world. Or, well, to him. Having never taken corporeal form, she had to admit, she was a little excited to let everybody know she was here.
"I"—she paused for effect—"am—"
Before she could make her big announcement, the rude beast-slash-god cut her off. "I know exactly who you are. Blah blah blah—anchor of all magic—blah blah blah—corporeal form—blah blah blah." He scowled her way. He really was a nasty bear of a thing. "I know exactly who you are and I don't need to hear any spiel, Gwendolyn."
"Gwendolyn?"
"Yeah, it's your name. Gwen for short."
"Oh. All right." This warlock was clearly insane. She'd never set foot in the world before in this form. He couldn't possibly know her. "I'll just…um…" She glanced around to see if there was anyone else nearby. She needed some excuse to zap herself into another area. She had clearly entered this plane of existence in the wrong location.
"Oh no you don't. Let's hear it," he said before she could put much distance between them.
"Hear what?"
"Hear exactly why you're here and what you need. I'll give you ten seconds to spit it out. I don't have a whole lot of patience for this right now." The growl was still there, punctuating every word he said.
She put her perfectly manicured hands to her hips and scowled right back at him. She didn't need this on her very first day. She had important things to do. Very important things to do.
"It just so happens I'm here on a very important mission. Very important." Perhaps if he understood the very part of things, he would be more hospitable. Maybe even helpful. She had a mission and a plan, and she wasn't about to let him stop her.
The growling got louder. Okay, maybe she'd try a different tactic. If he understood what kind of danger the world was in, maybe he'd take this more seriously.
"The world is in grave danger." There, that ought to do it.
He just stared back at her. Arms folded across the overly broad chest of his. Were chests really supposed to be that broad? She didn't know. She didn't have a lot of experience with warlocks. Every once in a while she got a peek of one here or there when a window opened between her plane and this one, but for the most part, she wasn't able to see much from where she was.
Forget it. She'd just have to go find somebody who would listen to her. Maybe if she concentrated really hard, she could find Baba Yaga and tell her what was going on. Or the Magical Council. Yes. That was a very good plan. Finding Baba Yaga or the Council should be step one.
She turned and looked around, then struck off in the direction of the nearest road. Well, what looked like a road. It was pretty far in the distance. Surely, there had to be another witch or warlock around here who could help her. Maybe they'd know how to reach Baba Yaga. Maybe there was some witchy magical hotline you called when you needed to reach the leader of all witches and warlocks.
"Not in your dreams, Gwen." One broad arm reached out and grabbed her around the waist, hauling her back. "Explain yourself. Now."
She sputtered. "You can't just toss me around like a sack of beans."
"Potatoes."
"What?"
"Potatoes. It's sack of potatoes, not beans," the beast said, looking at her like she was the one whose sanity had taken a little detour for the day.
"Well, what do beans come in? Don't they come in sacks, too?"
Now his mouth hung open as he stared at her.
"Well, they must come in something, and a sack seems just as likely as anything else. I mean, surely a sack would do," she said, more to herself than to him at this point.
"Unbelievable," he muttered before turning and yelling at the sky, confirming what she'd thought about his sanity being AWOL. "Carol! Bring your skinny little ass back here, Carol! I might not be able to summon you, since you're Baba Yaga, but I can sure as hell tell Mom and Dad it was you who broke Dad's favorite chalice!"
Gwen grabbed the man's arm. "Wait! You know Baba Yaga? I need to see her. You must bring me to her."
He whipped his arm free.
Oops. Okay, mental note. The big guy's not okay with touching.
"Carol!" He continued shouting at the sky.
Gwen crept backward inch by inch. It suddenly seemed important to put some space between herself and the madman, even if she did want him to take her to Baba Yaga.
"Now, Carol! Or I'm paying Mom and Dad a visit. You might be the most powerful witch in existence, but do you really—"
"All right, all right!" came a disembodied voice. "I'm coming."
Gwen looked around, trying to find the source of the voice. Nothing.
"I'm bringing backup, though, baby brother." The disembodied head of a beautiful witch suddenly hung in the air in front of them, making Gwen jump back another foot.
"Oh for heaven's sake, don't be so melodramatic," growled the beast.
A body appeared to go with the head, along with a witch, a warlock, and a werewolf. Gwen squealed. A werewolf! A real-life werewolf. Who cared if there was a crazy man in their midst? She was about to meet her first werewolf! This was getting exciting!
Chapter Two
Goddess help him, he needed to get far away from this woman. Gwen was actually squeaking, although he couldn't begin to imagine why. He turned his attention back to his sister and her entourage. This time, Carol had her freaky old entourage of warlocks who looked more like trolls behind her, along with a witch, a warlock, and a werewolf standing by her side. The stink of the shriveled old warlocks hit him, eating away at his patience even further.
"Take care of this." He jabbed at the air in the direction of Gwen, then turned to leave.
"No can do, little brother." Now Baba Yaga was smiling at him, and it was that serene, eerie smile that said she knew something he didn't. Damn, things never ended well for him when she smiled like that.
"Brother?" the witch with his sister yelled. "Baba Yippy Skippy has a brother?" She seemed to flinch as if hearing what she'd just said, and eyeballed his sister as though waiting for retribution for the Yippy Skippy thing.
It was then that Gideon realized who Carol's entourage was. Even though she was Baba Yaga, his sister still believed in writing him letters routinely. Big surprise—those letters often overshared details about her life and the lives of those she knew. He was pretty sure she believed they should share everything as twins. Everything.
He'd heard all about Zelda, the witch who'd taken over for her Aunt Hildy as the Shifter Whisperer. Thanks to his sister's need to blab, he knew a little too much about Zelda and her relationship with Mac, the Wolf Shifter who was Zelda's mate. He knew, for example, that until recently Zelda had refused to admit Mac was her mate and only wanted to screw his brains out—his sister's words, not his—and about Zelda's father, Fabio, who'd at one point been Zelda's familiar thanks to a curse by Zelda's mother, who'd turned him into a cat. When Zelda ran him over and killed him—temporarily, given his nine lives—she ended up in witch prison, which was how she had come to know his sister.
All that was in the past now. Fabio was no longer a cat, Mac had won Zelda's heart, and Zelda was being groomed to one day be the next Baba Yaga, although she wasn't privy to that little fact yet.
Yeah. More than he really needed to know, since he wasn't in high school. Or a girl.
"Yes, I have a brother." Baba Yaga turned to Zelda with a scowl that would have made Gideon laugh if he hadn't just had the shock of his life watching Gwen return.
"Baba Yack has a brother," the witch said to no one in particular, then slapped both hands over her mouth. "It's like repeated brushes with death have removed all concern for self-preservation," she mumbled. Carol gave Zelda a warning look but didn't say anything. If Gideon wasn't mistaken, his sister seemed to have genuine affection for the younger witch. That was unexpected.
"Gideon, meet Zelda, Mac, and Fabio, my boyfriend."
"Your what?" Gideon yelled, and this time, he did let his anger bubble up to the surface, as steel spikes broke through the surface of his skull and his face erupted in frightening boils and blisters. When he wasn't in Boguman form, he was as handsome as any other warlock. But when he let loose with his Boguman side, things got ugly. Fast.
When he showed his Boguman side, he could evoke fear in even the strongest of warlocks. Children would invariably run screaming at the sight of him, and even most grown witches and warlocks would shrink away at the sight.
Mac held his ground, a small growl coming from his chest, confirming what Gideon had thought about his strength of character and status as an alpha. Fabio flinched, but stood strong. Zelda screamed and ducked behind Mac, then stared in fascination.
Great. She was one of those. Some witches and warlocks became a little obsessed with being frightened by him. He guessed it was similar to the way people watched horror movies. They seemed to get a thrill out of scaring the pants off themselves. Zelda reached an arm toward him, so he curled his lip in her direction and let the three-inch fangs he normally kept hidden away show.
She giggled and jumped back with a yelp before Mac caught her with an indulgent smile—gag.
Gideon took his warlock form again, locking down on the anger he was feeling for the time being. He'd release it again when he knew where the hell to aim it—other than at his sister, who at the moment was staring at Gwen. He glanced between the pair. Gwen looked as serene as Carol, seemingly unruffled by his display of teeth and steel.
He hadn't been the Boguman when she'd last appeared on earth, but she didn't look the least bit ruffled by his sudden change in appearance. In fact, he realized suddenly, she'd shown no hint that she knew him at all. Not even a glimmer of recognition. What the hell was that about?
He'd taken the position of Boguman after she left. When he had nothing left to live for and no reason not to walk the earth scaring the pants off children who misbehaved. Although nowadays, his role had changed. Now he only scared children who were cruel to others. He was like the equivalent of a scared straight program for the magical world. But being the Boguman didn't do anything to alter his appearance when he was in warlock form. She should know exactly who he was.
"Zelda, Mac, Fabio," his sister said. "This is my brother, Gideon, and this is Gwen."
Gwen raised her arms once again. "I am the anchor of all magic." She beamed, and he had to look away. She did look gorgeous when she wanted to. Apparently, right now, she wanted to dazzle her audience. There was an almost ethereal glow to her as she spoke. "I hold inside myself the very same magic that is inside every witch and warlock. Your magic is anchored to me to maintain balance and order in the magical realm. I've taken corporeal form for the first time ever to save, well, to save magic."
Typical. She always was concerned with herself and no one else.
Gideon stepped in. If Baba Yaga wasn't going to put an end to this, he would.
"It's not the first time you've taken corporeal form. You were here two hundred years ago." He dismissed Gwen, letting her ponder that little nugget, and turned back to his sister. "What the hell are you playing at, Carol? You knew she was coming and you brought me here instead of warning me to stay the hell away?"
She merely shrugged. "You're needed. Plain and simple."
"What do you mean I've been here before?" Gwen stepped forward, reaching to touch his arm. He stepped away before she could.
"Two hundred years ago, you came here at the behest of the Goddess to destroy a powerful tool that could be used to harm the balance of power and throw witches and warlocks into a civil war." His sister was speaking in much too placid and tolerant a tone for him.
"You came, discovered you liked chocolate and wine, then took off when you'd had your fun." And had me, he added in his head. "Apparently you got to forget all that while we had the pleasure of holding on to those memories. Yay for us."
He didn't bother to point out that he'd also had to feel her presence for the last miserable two centuries of his existence. Magic was, after all, everywhere. In everyone. And since all of magic was tethered to Gwen, the magic that ran through him ran through her as well. She was, quite literally, a part of him. And damned if that wasn't a fucking punch to the ass.
Gwen's elegant brows pinched together as she thought. "Nooooo, I think I would remember if I'd done this before. It took quite an effort, I'll have you know. It's no small feat to take corporeal form."
"I think maybe you got a few things wrong," Zelda said, then stepped forward and gestured toward Gwen's feet. "Um, if you'd like, I can just make a few adjustments."
"Oh!" This came from Carol, who seemed to be treating Gwen like a long-lost friend. "Yes, Zelda, go ahead."
Zelda raised her hands and waved them in Gwen's direction.
"Goddess on high, hear my call. Cinderella's not quite ready for the ball.
She's currently looking a little like Humpty Dumpty,
Put things in the right place, make it all look nice,
And while you're at it, please give her a dress that's not so frumpy."
As Gideon watched, lavender lights shot out from Zelda's fingers. In an instant, the small errors Gwen had made were corrected. Her feet were now on the proper legs—yes, she'd had her left foot on the right leg and right foot on the left leg this whole time.
She now wore an even shorter cute little black dress that showed off a hell of a lot more of those milky white thighs than he needed to see. With a final zap, Zelda turned Gwen's ears right side up, trimming her hair into a shorter cut. Great. Now he could see her neck and shoulders.
"Slithering fuck," he muttered again, before speaking up. "Tell us exactly why you're here so we can fix whatever the hell threat there is to you and return you to where you came from."
"Gideon! That's enough." Carol turned from him to Gwen. "But yeah, you really do need to tell us why you're here. I haven't picked up on any threat to magic."
Gwen's job as the anchor was simply to bind all of magic to her so that balance was maintained in the universe. She also monitored things to some extent, but for the most part, she didn't actually act on any of what she saw. That was left up to Baba Yaga and the Council. Of course, there had been that one time the Goddess sent her to restore order, but that was another story altogether. The situation then had been critical.
"It's not a threat, Baba Yaga. Not exactly." Gwen looked from Carol to Gideon and back again, twisting her fingers together.
"Then why are you here?" he barked, and felt horns spring from his shoulder blades and the top of his head. Dammit. It was rare for him to lose control of the tools of his trade like that. The Boguman should only transform when he absolutely had to. With a roll of his shoulders, the horns receded.
"Someone is siphoning magic."
"Excuse me? What the monkeynuts did she just say?" Zelda screeched.
"Oh my word, Zelda, get a grip on that mouth of yours," Carol said. "And Gwen, explain yourself. What in the name of the Goddess are you talking about?"
"Someone is drawing more magic than they were born with. Like they're siphoning it somehow. I don't know if it's a witch or a warlock. It's someone who isn't particularly strong, but they've somehow managed to draw a lot of power, which really makes very little sense, when you think about it. They simply shouldn't be capable of it."
Gideon watched his sister's face to see if she'd ever heard of this kind of thing before. He'd always been able to read her. And right now, her face said she wasn't feeling altogether calm about the situation.
"So, take it back!" Carol snapped at Gwen, all placid, calm Baba Yaga focus gone now. "You're the anchor. Take it back."
"All right, back this train up," Zelda said. "Some of us need the CliffsNotes version of things here. What do you mean, someone is taking more magic than they were born with? For that matter, what do you mean, you're the anchor of magic?"
"Didn't you go to even one class in high school? Just a single course?" This came from Fabio, and Gideon remembered he hadn't known he had a daughter until Zelda was an adult.
"If you wouldn't mind, just the quick and dirty version for those of us who were sick that day," Zelda said primly, not fooling anyone.
Gwen raised her arms again, but Gideon cut her off. He could only take so many of her sanctimonious speeches in one century. "Every witch or warlock is born with a certain amount of magic in them, but that magic is also anchored to the universe. Tethered, in a sense, to Gwen. She's in all of us. We each only have a certain share of her, a certain type of magic. It's impossible to pull more than your share or to tap into a kind of magic that isn't yours. If you aren't a creator witch, you can't draw on creator magic, and so on."
"Then how did I get my Aunt Hildy's magic in me?" Zelda asked. Gideon noticed she didn't mention her mother's magic, which she also currently had in her body. He would guess that wasn't one of her more pleasant memories. She'd pulled the magic out of her mother, rendering her human after her mother had tried to kill her. That story had taken Carol twelve pages to write.
"Magic can be passed from one witch to another, or even taken, if the witch or warlock doing the taking is powerful enough." Baba Yaga frowned. "But no one should be able to draw it directly from the source, so to speak."
Gideon needed to move things past this little Magic 101 lesson. He needed to get back to his work. Back to his life. He had a life that needed living, and it didn't include standing here listening to a tenth-grade history of magic lesson.
He did have a life to get back to. Sort of. All right, so it wasn't the greatest life on the planet. He hung out at the bar a few nights a week with the Jersey Devil and a few Centaurs who were trying to convince him to join their pinochle group. So he didn't have much of a life. But that didn't mean he needed to waste his time helping Gwen solve her current crisis only to have his heart trampled again when she left. Because that was what she would do. She'd stomp on it all over again as she made tracks for the nearest exit as soon as magic was out of danger.
"All right, well, I'll just leave this to you, big sister." He tossed in the title he rarely granted Carol, hoping she'd go for it and let him leave. "Looks like you've got a good handle on things here." Before Gideon could move, the gang of gnarled-ass warlocks Carol had inherited when she took the role of Baba Yaga began yammering something about another mission and danger all around them.
"Sorry, baby brother. They're right. We're on our way to put out another fire. Have to hunt down a nasty little band of chimera who've been, uh, who've been, um—"
"Chima-ering," Zelda said awkwardly.
Before Gideon could say a word, the group was gone, leaving him and Gwen staring at empty space.
"The chimera situation is getting out of control. I need you here handling this, Gideon. I'm counting on you to handle this!" came Carol's disembodied voice. She really had to stop doing that. Both the disembodied yelling thing and preying on his soft side. He might be the Boguman, and he might be madder than hell, but he would never leave his sister high and dry when she needed him. Even if it meant spending time with the woman he both loved and hated with all his being.
Slithering fuck.
Chapter Three
Gideon sat at one of the long picnic tables outside Zelda's Assjacket, Virginia house and tried to decide if he should laugh, cry, or go crack open a shit ton of heads until he got results. Carol had sent a note—which she had delivered by an Owl Shifter as her own corny homage to Harry Potter—saying they could meet with some of the Shifter community at Zelda's to find out if they'd seen anything unusual.
Gideon's instincts said they shouldn't be screwing around talking to anyone other than the Council right now, but Carol had been insistent and Mac had backed her. Apparently, the Shifters had a tight relationship with Zelda and Fabio, and they had as much to lose if the balance of magic went all wonky as any witch or warlock did. Zelda was their healer, after all. Without her and her powers, many of them might not survive the infighting that often took place among the various Shifter species.
Besides that, the Shifters knew Assjacket inside and out, and Gwen was sure the place they needed to begin their search was Assjacket. He supposed on some level, then, that meeting with the Shifters made sense.
Gwen was happy as could be, surrounded by Shifters, all vying for her attention. Out of respect for Bo, the four-year-old boy in attendance, Gideon locked down his Boguman side and stayed in warlock form. Bo was a good kid, even if he was currently shying away from Gideon just a bit.
Bo was flanked by his mother and father, Wanda and Kurt, both Raccoon Shifters. Kurt was the alpha of the raccoon pack, and Bo would follow in his father's footsteps when he was old enough. Roger, a Rabbit Shifter and purportedly phenomenal sex therapist, sat nearby. Gideon wasn't crazy about the way the rabbit kept looking between him and Gwen, but he was doing his best to ignore him. For right now, Gideon needed their help if he was going to figure out the whole siphoning magic thing and get on with his life.
"So, she's all there's a lot more to him than you think there is." Wanda was still talking about someone named Minerva and the warlock she was dating. Tink or Tank or something like that.
Roger chuckled. "Apparently he keeps her happy where it counts."
"It's weird, though," Wanda went on. "Minerva is usually such a social climber. She cares a lot more about social status than she cares about sex. Half the time, the warlocks she dates aren't even all that good looking, but they have money or power, and that's what counts with her."
This had Roger shaking his head. "Maybe she finally discovered the big O and is shifting her priorities."
Kurt reddened and Wanda giggled, while Bo looked from adult to adult in fascinated confusion. Gwen mouthed the words big O as though trying to process what the rabbit was referring to.
Time for a change in topic.
"Getting back to the issue of magic. So, none of you have seen anyone who seems to have more power than they should? No one suddenly doing things they shouldn't be able to accomplish."
The group as a whole began to fidget. All except for Bo, who spoke up with the utter lack of hesitation found in a child. "Zelda can do cool stuff now."
Everyone froze, but Gideon laughed. "Don't worry, Bo. We know Zelda's dealing with more than her share of magic right now. That's different. What we're trying to find is someone who's pulling straight from the spigot. Can you think of anyone besides Zelda who's been able to do things they shouldn't lately?"
Head-shaking all around.
Gwen was murmuring. "Big oxen, big opals, big octopus, big…big…" She frowned as she seemed to reach for more O nouns. Wanda leaned in and whispered in Gwen's ear.
"Oh!"
"Uh huh," said Wanda with a knowing nod and a grin.
"Roger," Gideon cut in, shifting in his chair as his pants became uncomfortably tight. The last thing he wanted was to sit and listen to Gwen talk about orgasms and sex. "How many witches and warlocks are there in the community? This is primarily a Shifter community, right?"
Before Roger could answer, Gideon heard Wanda whisper to Gwen. "Which is weird, right? Because everyone knows warlocks are notoriously bad in the bedroom. They're too self-absorbed to be thinking about anyone's orgasm but their own."
Before he could stop himself, Gideon was responding. "Bullshit. Not every warlock is like that. Believe me, I have no problems making sure the witch I'm in bed with comes so hard she blacks out a few times." He didn't mention that he typically teleported out of there as fast as he could afterward. Just because he left them sated and happy as shit didn't mean he stuck around to cuddle. Been there, done that, and had the scars to prove it.
Gwen's wide eyes turned to him. Well, shit.
"Anyway"—he turned back to Roger, who had an annoyingly wide grin on his face—"back to…"
He had no idea what was supposed to come out of his mouth next. His gaze caught Gwen's, and he realized she was watching him with eyes that now said she wanted a lot more from him than simply being a partner in locating the magic siphoning suspect. Roger and Wanda were smiling like a pair of Christmas elves on a joyride in Santa's sleigh.
Shitshitshit. Not good. Particularly since certain parts of his anatomy were fully on board with the ideas Gwen seemed to have rolling around in her head.
Rolling around…with Gwen…shitshitshit.
"Um, anyway, going back to, um…" What the hell? He was the Boguman. He didn't say um.
Apparently he did, though, because it had just come from his mouth not once, but twice.
This had to end. Now. Whatever Gwen thought he could do for her—crap, not good, not good.
Images of himself doing a lot of things for Gwen flew through his mind. Dirty things. Great things. Orgasm-inducing things.
Time to put a stop to her fantasies before his own got any more out of control. If she kept looking at him like that, there was no telling what he'd do.
Gideon turned and growled at Gwen, letting loose just a tiny bit of the Boguman for her. His nose turned into a jagged horn, his mouth fanged and rotting. The image was enough to send poor Bo running for the tree line, with Wanda racing after him. Roger let out a squeak and ran as Kurt shifted into raccoon form and planted himself, making his small body as large as he could, between Gideon and his retreating family and friend.
But Gwen did nothing more than stare serenely back at him. And sigh. She sighed.
Slithering fuck.
Chapter Four
Three, it turned out, was the number of witches and warlocks living in Assjacket. Zelda, Fabio, and Zelda's former cellmate from her stint in magical prison, Sassy. They'd already met Zelda and Fabio. If either of them had been carrying the missing magic around with them, Gwen should have been able to see it, and Gideon had a feeling they wouldn't have been able to slip that past his sister this whole time. Carol was no idiot.
They would need to track down Sassy at some point, but they had a bigger problem on their hands. A traveling carnival came through Assjacket on its way south every year for the winter season. They apparently spent a couple of weeks in town on a break before heading out. Assjacket allowed them the freedom to party with the Shifters and avoid humans more easily than they could other places without having to hide who they were.
Gideon paced the small room of the hotel he and Gwen had just checked into. Instead of an adjoining room, he'd gotten one clear at the end of the hallway. The further she was from him, the less the temptation. Or so he hoped. All day, he'd wanted to reach out and hold her. To tell her they'd fix all of this together.
But that was just his dumbass male response to a needy woman. It had to be genetics or some stupid shit like that. She was the same Gwen he'd known, and yet just a little different underneath. As if she felt a little lost in this world. And damn if he didn't want to fix that for her.
He shook off the feeling and focused on the magic thief. For now, he needed to get as much information from her as he could, then take his ass as far away from temptation as he could for the night.
"All right, let's go through this again." He thought about sitting down, but Gwen was on the bed, and the only chair in the room looked like it had a family of rats living in it. The place was a shithole. That seemed to be by design. He'd been told Assjacket kept the human population moving right on through town by making sure everything was as unappealing and inconvenient as possible. They were pretty good at it.
"Go through what again? The orgasm thing? Because I got most of what they were saying, but I wasn't entirely sure I understood all of it. So, Minerva is with Tink for the orgasms?"
Gideon tripped over his own foot, but caught himself before going down. If she wasn't one hundred percent genuine, it wouldn't be so damned hard to resist showing her what it meant to have a man who could make you come until you saw stars.
Then he remembered that he had shown her that. Many, many times. She'd left him anyway, and apparently didn't even remember any of it. Yeah, crisis averted. If that didn't have a cold-shower effect on his dick, he didn't know what would.
"No, Gwen. I'm not talking about Minerva's orgasms or lack thereof. The magic. The siphoning. Remember? The whole reason you're here?"
"Oh, yeah, sure." She didn't sound overly enthusiastic about solving the mystery anymore, but what did he care? That was her problem, not his. He was solving this mystery and getting the hell out of Dodge.
"Tell me when you first realized this was happening."
"I don't really have any sense of time when I'm not in human form, but I don't think it was too long. I just kept thinking Baba Yaga would get the magic back, but then she didn't. So I came."
Came. Goddess help him, he would get through this. "And when you chose Assjacket, you did that because…" He let the sentence trail off so she could fill in the blank.
She rolled her eyes at him as though it should be clear. "I followed it. The magic has a signal. I followed it here. That's my plan, you see. You don't think I'd come all this way without a plan in place, do you?"
Gideon remembered then one of the things that had drawn him to Gwen all those years ago. She'd wanted so badly to help, to be part of fixing what was wrong. He understood why. As the anchor, she really had no duties at all. She served as a tether. But that tether did more than simply bind magic so chaos couldn't reign. It bound Gwen. Her existence was isolated, almost amorphous. She had little sense of time and place. She didn't do much of anything. As she'd said a moment ago, she simply watched for trouble. It was always actually fixed by either the Council or Baba Yaga.
When Gwen had to change to join the fight last time, she'd jumped at the chance. She'd wanted so badly to be a part of something. To belong in the world instead of being on the outside of this plane.
Until she got bored and left him. He cleared his throat and refocused. The past needed to stay where it was. In the past. "Okay, great. That's fantastic. You can track it, so we can follow it now. We just follow it and bottle it back up or whatever, and you're good to go." Operative word: go. As in get the hell out of his life again.
"Yes! That's my plan. I track and you get it back." Her face fell. "Except now that won't work. It's not here now."
Now his stopped pacing. "What do you mean it's not here? Where did it go?"
She fluttered her hands together. "Easy come, easy trees."
"What the hell are you talking about? Easy come, easy trees?"
"Yes." She nodded in a way that made him think of that show I Dream of Jeannie. A little head bob. "Easy come, easy trees. Or maybe leaves? Easy come, easy leaves?"
"Easy come, easy go?"
"Yes!" She pointed at him, stabbing the air with a triumphant finger. "Yes, that's it!"
"Gwen, focus here. What do you mean? Does the magic come and go?"
"Yes." She said this in a tone that said he was an idiot for not following what she was saying. Honestly, who could follow a thing she said? "Sometimes it's here, sometimes it's not. It's just gone."
"So, let me get this straight. You don't know if the magic is here anymore, you don't know how long someone's been siphoning this magic, and you don't know if you can follow it?"
"Yes." She smiled at him.
"Great."
"That's not great, Gideon."
"No. I realize that. It's an expression."
"What's an expression?"
"Great is an expression. Well, not really. It's sarcasm."
"Okay." She bobbed a nod again.
"Good."
"Gideon?"
"Yeah?"
"What is sarcasm?"
He dropped his head back and prayed to the Goddess for patience. The fickle bitch ignored him. Right. Status quo on that count.
He stayed that way, counting his breaths and hoping for some semblance of patience until her heard it. Soft, high-pitched voices outside the door. He rolled his head up and looked at Gwen. She didn't seem to have noticed a thing.
Gideon kept his eyes on her as he moved to the door. When she opened her mouth to ask what he was doing, he gave one shake of his head then yanked the hotel room door open.
In they fell. Three men who must have actually had their ears to the door the way they landed at his feet, one on top of the other. Two of them tall and thin with plain brown hair and eyes, one short and round with white hair and shockingly reddish eyes. The two thin ones stood right away and began to talk, babbling on about being there to help and doing whatever they could.
"But we just didn't know if we should interrupt," said one.
"Right," said another. "Because we didn't know if it would be more helpful to wait or more helpful to, well, to help."
The third man—the round guy with white hair—remained on the floor. He simply sat up and leaned his back against the wall, glaring at the other two as his nose twitched.
Mice. Freaking mice. Gideon should have known from their voices alone. They talked a little too quickly, and they sounded like they'd been drinking and sucking on helium balloons at the same time.
"I didn't want to interrupt or help," said the one on the floor. "That was all on these two. I voted for minding our own damned business, but these idiots have this whole Cinderella thing going. It's absolutely asinine, if you ask me."
"You said you'd go along with whatever the majority vote was. And this is it," said Tall Guy Two.
"Look, I'm not sure why you guys think we need help, and I sure as hell don't know what all this has to do with Cinderella," Gideon said, one hand pinching the bridge of his nose, "but we're having a private conversation here."
"We know, we know," said Tall Guy One. Goddess, the nose twitching became more and more noticeable as the men shuffled their feet and—wait, was that a squeak? "It's just that, um"—squeak—"well, the thing is we told"—squeak—"well, we sort of said—"
"Oh, for Goddess' sake, spit it out," the round guy said, getting up now. "We told Mac we'd come help you out. Correction. These idiots told Mac we'd come help you out. It's all part of their Cinderella Plan—"
"The Glass Slipper Initiative," Tall Guy One said. "On the whole, Mouse Shifters have been relatively underappreciated in the world. We're not really great in a battle, and don't have a whole lot to set us apart from any of the other Shifters, other than the cheese-eating thing. So, we're setting out to change that with the Glass Slipper Initiative, our own little effort to be more like the mice in Cinderella."
Tall Guy Two nodded rapidly. "Yeah, helpful and cheerful. Just like in the movie."
"Maybe you should come in and start from the beginning," Gwen said, stepping forward and waving an arm to invite them into his room. Was she serious? This day just got better and better.
"Oh, thank you," said Tall Guy Two, bowing repeatedly as he entered the room, as though meeting Cinderella herself. Gideon felt like he'd walked into some bizarre fantasyland where fairy tales were lived out in twisted reality show versions you couldn't get away from.
"I'm Gwen." She offered her hand to each of the mice. At least she'd given up on the big speech announcing her corporeal form to everyone she encountered.
"I'm Mickey," Tall Guy Two said, then gestured to the other brown-haired one, "and this is Mike, but we call him Mighty. That's Moose." The round guy nodded.
Gideon was speechless. He didn't know which was worse. Mouse Shifters named Mickey, Mighty, or Moose, or the way Mighty was currently flexing arms that appeared to be as thin as toothpicks without a muscle—mighty or otherwise—in sight.
Gideon looked at Gwen. She beamed. Positively beamed at her latest fans.
Great. And he meant that sarcastically.
Chapter Five
Gideon put his hand on Gwen's back as they neared the carnival encampment, then removed it. What the hell was he thinking? It was a knee-jerk reaction, that was all. He knew the witches and warlocks in the traveling circus could be a closed-off group. They might not welcome an unannounced visit from strangers. His urge to protect Gwen was nothing more than a mere byproduct of having been raised right.
He'd sent the mice off on a wild goose chase to get them out of his hair for the day, but it hadn't been easy to convince them to leave Gwen. The trio had shown up at Gwen's door that morning with platters of fruit and cheese—a lot of cheese. Mickey and Mighty had said it was all part of the Glass Slipper Service, while Moose grumbled about sharing his cheese.
As he and Gwen teleported to a field near the carnival's encampment, Gideon was glad he'd been able to ditch the mice. The last thing he needed was three mice tagging along as he tried to get the Komolvo to open up to him. Komolvo witches and mice did not get along. Komolvo witches could almost always trace their lineage back to a few familial lines originating in a small village on a mountainside in Europe. A village that at one time produced great cheeses.
After the mouse invasion of 1713, the Komolvo took to traveling, and many now worked in carnivals the world over.
They'd only gotten within twenty yards of the small carnival community when two men and a woman separated from the group and came toward them. Nowadays, instead of tents, or even RVs, they traveled in tiny homes set on trailers. Not what you think of when you think of trailer homes, these were tiny little houses, with chimneys and real roofs. The only difference between them and a real home were the wheels. Well, that and size.
Each was typically no more than three hundred or so square feet. At least, that was how they appeared from the outside. Gideon wouldn't be surprised if they were much larger on the inside. It was what he would do. A basic glamour spell to make a larger home look smaller. There could be complications, of course, but nothing that couldn't be handled by the people they were about to see. These witches and warlocks were crafty and sharp. If they lacked anything in the power department, they often made up for it in intelligence.
"What did we do to earn a visit from the Boguman himself?" one of the men said, by way of greeting. "We've kids here with us, but none I know who've earned a visit of this magnitude."
Gideon laughed. They seemed open to him. Better to try to befriend them and see what he could find out. "Well, now little Aurel is pushing the limits a bit lately, but he isn't the reason for my visit. Yet."
The woman smiled, and her beautiful Komolvo features took on a light that shone from within. "That Aurel is a tough one. You might have a hard time getting through to him." This particular carnival was made up of primarily Komolvo witches and warlocks, who likely hadn't known anything other than the nomadic way of life. Outsiders were sometimes welcomed into the group over the years, and eventually accepted as family, but for the most part, the Komolvo line and features were evident in the faces of nearly every one of them.
The third man had yet to speak, and was attempting to look the part of the tough leader who wouldn't deign to speak to outsiders, but Gideon wasn't fooled. The woman was truly the one in charge. This was a matriarchal clan, and no one would accept or reject him without her say-so.
Gideon spoke to her now. "I'm not here on business. In fact, call me Gideon," he said, then turned to Gwen. "This is Gwen."
"Is she now?" the woman said, watching Gwen with eyes that saw too much. "Seems I've known her all my life."
No one said anything for an uncomfortable moment. But the woman was the one to break the silence. "A witch with no magic." She tilted her head. "No, that isn't quite right, is it? You have all of the magic in the world, yet none of your own."
Gideon cleared his throat and moved closer to Gwen. It hadn't occurred to him how defenseless Gwen could be at times. She wasn't able to use the magic she held. She couldn't fight back if anyone attacked her.
"I'm Luca," said the first man, "and this is Harmen and Floarea." They all shook hands, and when Harmen continued to remain silent, Gideon wondered if he'd been incorrect in his first impression. Perhaps the man wasn't trying to act tough. Maybe he couldn't speak. It would be odd for a warlock given the health of most of their race, but perhaps a curse had left him mute.
There was no explicit invitation, but the three turned and walked toward the encampment, and didn't object when Gideon and Gwen followed. He supposed that was all the invitation they'd get.
"How long will you all be staying in town?" Gideon asked after they'd met several others. A few children ran and hid when they spotted Gideon. It always puzzled him a bit that children could see who he was even when he was in warlock form. He was quite handsome in that form. There really wasn't any need to run, but they always seemed to sense the Boguman and look for a place to hide. Except Aurel, he noticed. The boy really would need a visit soon. He simply jutted his chest out at the sight of Gideon and kept right on pulling the pigtails of one of the little girls.
Luca shrugged. "A few weeks. Assjacket affords us a little rest from having to hide who we are around the humans who attend the carnival. It's a much-needed break every year. I'm sure you understand."
"I do," said Gideon, suddenly aware that he had felt some relief at not having to be the Boguman twenty-four-seven the past day. Despite the tension that continued to dominate every interaction with Gwen, he felt more at ease here than he had in a good long time.
"Will you join us this evening for our meal?" Floarea asked.
"We'd love to," Gwen said, beaming as she looked around at the Komolvo. To her everything was an exciting new adventure, and she hadn't bothered to see if Gideon wanted to stay or not.
Oddly, he did. Even though he wondered if the siphoned magic had something to do with the carnival, the thought of sharing a meal with others—something he rarely did—appealed to him.
So he made an effort to relax as they enjoyed an evening you couldn't really experience anywhere else. Makeshift tables were gathered around an open barbecue pit in the field where the encampment had been set up. Chicken, steak, and fish crowded the grill over the open flames, surrounded wherever there was even the smallest bit of space by ears of corn still in the husks. Baked potatoes wrapped in foil sat on rocks on top of hot coals beneath the grill.
Even though the carnival wasn't set up, there was still the feeling of a carnival all around. Tiny lights glittered above and a group of men played on gorgeous handcrafted instruments Gideon suspected were only brought out during private moments. They likely played another set of instruments when the carnival was open to the public.
As they sat with Harmen, Floarea, and Luca and watched dinner being prepared, Gideon scanned the group. As the Boguman, his ability to see into the hearts and minds of those causing trouble only extended to children, but he still tried to assess everyone he came in contact with, and especially those who seemed to hang back.
It turned out the couple Wanda had told them about, Minerva and Tink, were part of the carnival. He had to give Wanda credit. She was right about the pair. They were an odd couple if he ever saw one.
Tink was an enormous warlock, though his power was quite limited and he was a bit plain for a warlock. They learned he was called Tink because he tinkered with everything he could get his hands on. In fact, Shifters brought things to him to repair during this vacation each year. Tink seemed to want to hang back from everyone and didn't join in the revelry much.
Minerva, on the other hand, tugged at him to come to the front of the group as the night went on. She was a stunning witch, but she had only moderate powers, and Gideon could see the hunger Wanda had talked about in her eyes. She coveted Floarea's quiet strength and the power of those in charge. There was an aura of greed and perpetual discontent about her.
Tink finally succeeded in pulling Minerva back to the outskirts of the encampment to an old van.
"They seem like an unlikely pair," Gideon said to Luca. Maybe if he got Luca talking about those in their group who didn't have the power to siphon the magic from Gwen, he'd get the warlock to slip up about someone who did.
Luca snorted. "Minerva likes to get close to anyone she thinks might have power. With that one, she's playing a long game."
Gideon shook his head. "I don't get it. He's not a very powerful warlock."
"No, but he's Floarea's cousin, which means he's not only related to our matriarch, he's a descendant of Guibran Mirga," Luca said, referring to an extremely powerful, but deceased warlock. In fact, it was odd for a descendant of Guibran to be as weak as Tink was.
"Oh stop, Luca. Gideon doesn't care about our ancestors," Floarea chided, as she refilled the mugs of everyone at the table.
"Oh, but I do," Gwen said, sitting forward. "I don't have ancestors or family of my own. I find it fascinating. What is it like to have a history? To know where you come from?"
This time Gideon didn't clamp down on the urge to put his hand on Gwen's back. He knew he was getting sucked in with her again, but he couldn't help it. There were times she seemed so vulnerable, so lost, and he had a hard time not responding to that.
It was Floarea who replied to Gwen, though. "Oh, but you do. You're in all of us, Gwen." Gideon still thought it was odd that Floarea had immediately seen who and what Gwen was, and seemed to accept without question that the anchor of magic was sitting at her table about to eat a meal with her. "Our ancestry is really your ancestry. The same magic that ran through Guibran also ran through you, as it now runs through me, through Tink, and Harmen—my brother—through many of us." Floarea nodded to those around her, and Gideon wondered how many of them were from the Mirga family line.
Gwen smiled, but there was something behind it that told Gideon she wasn't entirely comforted by Floarea's explanation. He remembered talks they'd had centuries before during her first visit to this realm. She'd wanted to be a part of something, wanted to belong. To have family. A last name. Floarea was right about Gwen having history, and he wondered for the first time if she knew where she came from. He needed to remember to tell her how she became the anchor in the first place.
***
The evening gave way to night as they filled their stomachs with good food and drink. Gideon hadn't intended to stay when the dancing began, but he found himself surrounded by nearly every witch and warlock in the encampment as music swept them away on the dance floor. He'd had no shortage of offers to dance from the bold women of the Komolvo camp, but he felt he had to keep Gwen close. Without him, she was completely vulnerable to anyone who wished to harm her. Much as he wanted her to complete her task so she could leave, he wouldn't put her in danger.
He wasn't sure how it happened. He'd been so sure to hold her at arm's length. But Gwen began to work her way back into his heart. She was different than he remembered, and yet the same. This Gwen was naïve, but that probably came from her lack of memory of the last time she was here. She didn't seem to know how powerful she really was. How brave she was. He had watched her throw herself into harm's way to save magic two hundred years ago despite not having magic of her own, and he had no doubt she'd do so again today if need be.
Other things about her were so familiar they made him ache. Her smile, or the way she pushed her curls from her eyes. The way she wanted to be everyone's friend. Her laugh. All of it made him want to go back in time. To be able to hold her again. To love her again without the pain of her betrayal between them.
Without conscious thought, Gwen was suddenly in his arms, her body pressed to his as they moved with the music, and she felt so right. So damned good, he wanted to lose himself in her.
She smelled incredible. As he lowered his head to kiss her lips, it was as though he'd come home. As though the last two hundred years of aching for her, of hurt and anger, had never happened. It was washed away in her arms, her kiss.
Part of Gideon knew this wasn't right. There seemed to be a fog building around his brain, and he couldn't think straight. Couldn't stop what was happening. But he should stop it. That much he still knew.
Gwen was kissing him back, reaching up to his shoulders to pull him in, her scent surrounding him in a spell he was utterly lost in. They swirled on the dance floor, the faces of the others lost around them. But no, that wasn't entirely true. Two faces kept reappearing amidst the swirling dancers. Tink and Minerva's. Only they weren't dancing. They were watching. Watching him.
Anger tore through Gideon as he felt the spell swallow them, as he realized they'd been enchanted somehow when he hadn't been expecting it. He'd somehow let down his guard. He shook his head and rolled his shoulders, throwing off the spell with a roar.
Gwen stared at him in shock, but he didn't offer an explanation as his eyes sought out Tink and Minerva in the crowd. Their faces were the only ones he'd been able to see clearly during the spell. That had to mean something. But they were gone, and all around them, the gypsies danced as though nothing had happened.
"Come on," he growled at Gwen, tugging her through the crowd, ready to crush anyone who tried to stop them. He should have known mixing with the Komolvo was a dangerous idea. Why the hell he brought Gwen there with him, he didn't know. But it had been stupid, that was for sure. He shouldn't have put her anywhere near the danger.
As she followed along behind him, he knew he was lying to himself. He didn't truly believe they'd been in danger just then. No one would have been able to hurt her with him there, spell or no spell. For them to put him in that trance, he had to have half wanted what had happened.
He laughed and shook his head again, ignoring Gwen's questioning look. Half wanted was a load of shit. He'd wanted her in his arms, wanted to taste her, to drink from those lips again, with everything he was. There was no halfway about it. It had only been a day and he was losing himself to Gwen again. And that was something he couldn't afford to do.
To keep reading, scroll up and click on the Amazon Link above! 
Other Great Magic & Mayhem Series Authors
Robyn Peterman (Kindle World Creator)
Releases in Magic and Mayhem Kindle World
Michele Bardsley
Kris Calvert
Deanna Chase
Claudy Conn
Melinda DuChamp
Eliza Gayle
Renee George
Melanie James
Renea Mason
Donna McDonald
H.M. McQueen
Isabel Micheals
Rose Pressey
To download a sample of each of the books in the world, visit: Magic and Mayhem Samples Page
COLLAPSE
Saving magic should have been easy for the Boogeyman. Operative word: should.
Throw in the witch who gutted him two centuries before, the Jersey Devil, and the Glass Slipper Initiative, and he was screwed. Oh yeah, and he also had to guard his heart from the one witch who had to power to bring him to his knees. Not a problem.
This novella is part of Robyn Peterman's Magic and Mayhem Kindle World. If you love Robyn Peterman, you won't want to miss meeting Baba Yaga's baby brother, the Boogeyman. Lori Ryan brings her signature suspense, humor, and steam to the Magic and Mayhem World.
Buy it today and fall in love with every child's worst nightmare!
*** This book was written exclusively for Amazon but you can download a Kindle reader free to almost any computer, smart phone, or tablet. Email me if you need help getting the book!