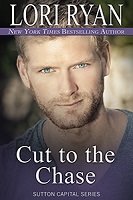 "All I can say is.....way to go Lori Ryan and please keep up the good work!"
"Wow!! Lori Ryan has done it again with the latest volume in the Sutton Capital Series... Ms. Ryan paces the action and suspense exactly right leading up to the "just can't put down" conclusion of the book. I loved it!"
"Another great Sutton Capital book! Lori Ryan has created a series where every book is as intriguing as the last. This series has romance, suspense & danger... Lori Ryan manages to balance out the right amounts of suspense, romance & danger to get her readers involved & keep them involved. The plot twists & turns with surprises along the way & keeps you enthralled. I wasn't able to put it down until I had finished it."
When starting over just doesn't seem possible
Warrick Staunton's lost it all, and this isn't the first time. When Sara Blackburn tries to get him to start over, he isn't sure he wants to. When a madman takes the choice out of his hands, he'll find himself fighting for his life and Sara's.
NY Times Bestselling Author, Lori Ryan, brings readers all the heartwarming romance and heart stopping suspense they've come to expect in the Sutton Capital Series. The series books can be read as standalone books, but if you want to try the first book free, you can grab the links here! http://loriryanromance.com/book/legal-ease/ 
Published:
January 25, 2017
Genres: