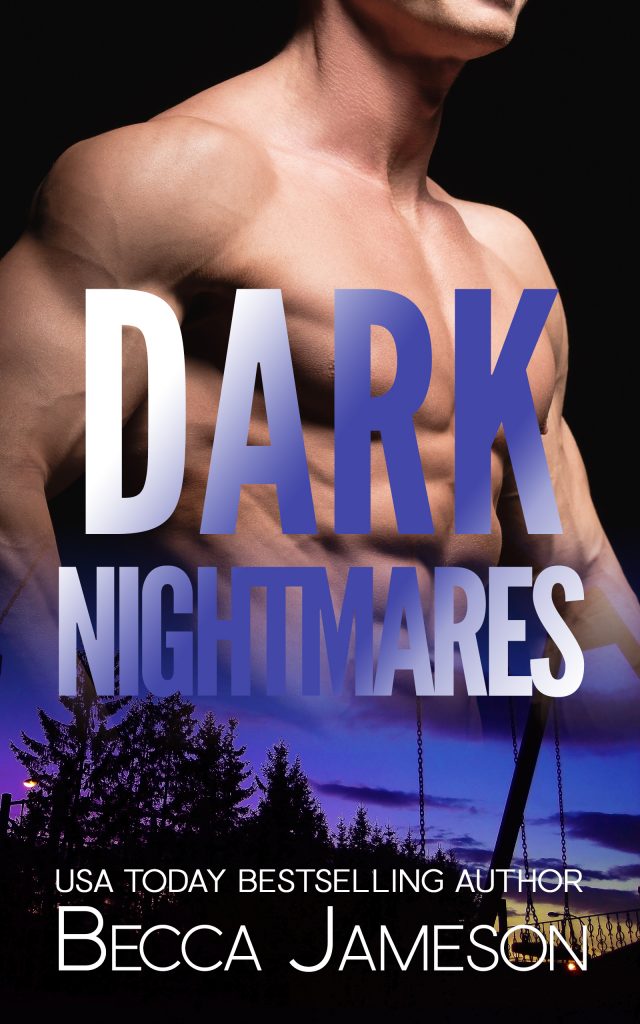 Nicole Salway left Dark Falls eighteen years ago with no intention of ever returning. Destroyed beyond repair, she closed that chapter of her life for good. But nightmares have plagued her for two decades. Nonsensical nightmares that have kept her from leading a normal life. The Dark Falls police department failed her as a young girl, but now she's a detective herself, and her hometown needs her help. Returning to the place where it all began could crack open her past and leave her raw and exposed if she's not careful.
Mason England isn't fond of going undercover without his usual partner, but the state has assigned one of their own detectives to help solve a horrific murder. After all, the victim is the governor's daughter, and all evidence points to a local club. Mason's temporary partner takes his breath away the moment she enters the precinct. But Nicole is a conundrum. She guards her secrets close, so close that Mason realizes no one has ever penetrated her walls.
Excerpt:
Nicole had been a detective for six years. She'd worked undercover more times than she could count. This was the first assignment that completely threw her off her game.
Thank God, Mason seemed nice enough that he would do his best to ensure she was comfortable, but she really didn't like putting herself in situations where she was inferior to a man. Ever.
He was picking her up from her hotel any minute now, and she was pacing like a sixteen-year-old about to go on her first date. He had said she could wear whatever she wanted, but he'd also implied she might fit in better if she showed a little skin. Apparently, there would be people there wearing anything from jeans and T-shirts to expensive sexy corsets and short tight skirts to…complete nudity.
READ MORE
She shuddered and rubbed her arms for the millionth time. She was a grown woman for heaven's sake. A detective. She could handle just about anything. Blood. Dead bodies. Active shooters. Masked gunmen. Car chases. Heights. The list was long. It didn't include fetish clubs.
Until tonight.
At exactly midnight, a knock on her door made her jump. She shook her arms at her sides and took a few deep breaths before peering through the peephole and then opening the door.
She hadn't thought much about how Mason might be dressed, but she was pleasantly surprised to find him in black jeans, a black tee that hugged his pecs to perfection, and black loafers. He'd showered recently. His hair was still damp, and as he stepped into her room, she could smell the clean scent of his soap and shampoo.
If this were a date, she would consider herself the luckiest woman alive. He had been attractive from the moment she'd met him, but tonight he was smoking hot. And that smile… The way he looked at her with slightly narrowed eyes. The air between them sizzled and she hadn't even let him inside the room yet. For several moments, it was impossible to remember this was not a real date. It was a job.
Damn. She needed to avert her gaze, school her expression, and shake the wandering thoughts about what his chest might look like from her head. She was on a job. She never ogled men at work.
Never.
As a rule, she didn't date anyone she worked with, not even people from another department. Of course, Mason was from another city, so in the long run, he didn't count. But, looks aside, he had several strikes against him.
He was apparently at least somewhat into BDSM. This would never fly with her. He was a detective. She didn't like to date men who were in her field. It left her feeling like they were in a power struggle. And finally, the guy lived in Dark Falls. That was four hours from Denver. It was also a town she never wanted to return to on a permanent basis.
Strike three.
With that in mind, she faced him again, only to find him eyeing her from top to bottom. She couldn't read his expression, so she wasn't sure how she measured up to his expectations.
This is not a date.
"Will this work?" she asked, pointing down at the little black dress she'd purchased that afternoon. She was not ordinarily a shopper. She didn't like crowded stores, and she hated fitting rooms. Online shopping was far more her style. But she hadn't arrived in Dark Falls with anything she would deem appropriate for tonight, nor did she have time to order something and have it delivered.
COLLAPSE