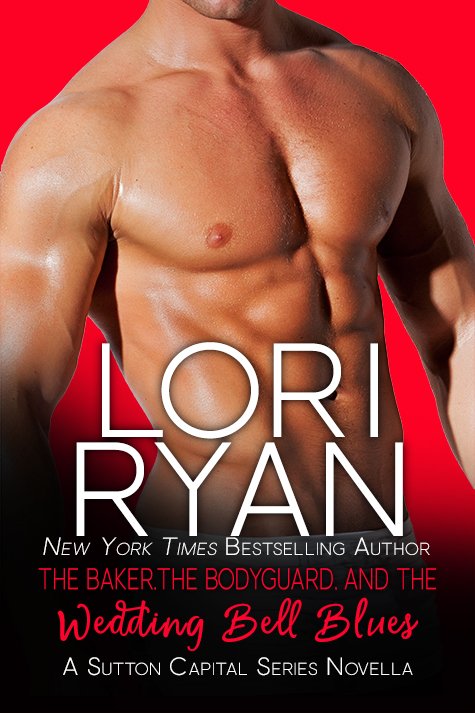 Jim and Bette Bradley invite you to the wedding of their daughter, Jesse Bradley, to Zachary Harris. After over a year of planning, this bride and groom are ready for the winter wonderland wedding of their dreams. But when the chef accidentally plans a raw diet menu for their reception and the bride twists her ankle the day before their special day, can they figure out a way to tie the knot and start their life together?
Heartwarming romance meets a twist of suspense in the Sutton Capital Series. The Baker, the Bodyguard, and the Wedding Bell Blues is the sixth book in Lori Ryan's wildly popular Sutton Capital Series, but it can be read as a stand-alone book. It is the story of the wedding of Jesse and Zach from book three in the series.
Published:
December 15, 2014
Genres:
Excerpt:
Chapter One
Okay, so the heels might have been a foolish choice.
Jesse Bradley flinched at the sight of her swollen ankle, propped on a pillow and covered with an icepack. There was no might have about this. The heels were a mistake.
It's not as if she hadn't worn heels before. It's just that, with getting her new bakery off the ground, she'd spent the vast majority of the last year and a half in rubber-soled safety shoes. Appropriate for racing around on tile kitchen flooring, but they're definitely not anything pretty or delicate. So, for her wedding weekend, she'd gone a tad overboard.
Four inches of nail-thin spiked heel overboard, to be exact.
READ MORE
"Here you go, gorgeous girl," Zach said as he broke into her thoughts and handed her a mug of hot chocolate with marshmallows. Jesse looked up into the face of the man she would be marrying on Saturday and tried to blink back the tears of self-pity. She knew she should be relieved. After all, Zach had caught her mid-fall and stopped her from actually breaking her neck rather than just spraining her ankle.
But, how could she not cry? She'd be lucky to be able to limp down the aisle to marry Zach Harris now, after a year of planning. The clinic doctor the lodge concierge had directed them to after her fall had said if she kept off her foot as much as possible in the next few days, iced religiously for twenty-four hours, and used the air cast he'd put on her ankle, she might be able to walk without a crutch by Saturday. Although, that would likely only be for the few minutes it would take to make it down the aisle. The reception was another issue all together.
Her nose started to burn and the tears began to flow. Facing the fact that she wouldn't be able to walk down the aisle in a few days just sucked. That's the only way she could think to describe it. It flat out sucked.
Zach sat on the couch next to her and brushed her cheek with the back of his hand. "Don't cry, Jess. If you can't walk by Saturday, I'll just carry you down the aisle."
She couldn't help but laugh at the image that conjured up. Zach would be practically covered up by the tulle skirt of her dress. No one would be able to see him behind all of the fluff and puff of the princess cut dress she'd chosen. But, she wasn't surprised one bit.
Zach had been her knight in shining armor from day one of their relationship when he'd helped her get past the debilitating fear she'd experienced after her sister, Kelly, had been kidnapped. That fear had kept Jesse from following her dreams. In fact, it had begun to keep her from leaving the house at all. At least, not without having someone with her at all times.
When Kelly's husband, Jack Sutton, had discovered what Jesse had been going through, he hired Zach to stay with her in New York City while she finished her pastry chef training. Somewhere in between the body guarding, the lessons in self-defense, and helping her cope with panic attacks, Zach had swept Jesse off her feet. She was hopelessly, head over heels in love with him. Heels. Ugh.
But Zach was right. What mattered was that Saturday would be their wedding day. It didn't matter if she was carried or wheeled, or if she limped down that aisle. She'd marry the man she wanted to build a life with. That was what mattered.
She smiled at Zach. "How about a lift into the kitchen to check on the cake? Cassie should be just about finished assembling it." They'd given her crutches at the clinic, but Zach had insisted on carrying her for now. Jesse had to admit, she liked the excuse to curl up in her fiancé's arms and snuggle into his chest. She would never get tired of copping a feel of those muscles when he lifted her as though she weighed nothing more than a stuffed doll.
"I should have known you'd want to check on the cake eventually," Zach said with an exaggerated sigh.
As a pastry chef, Jesse hadn't been about to let anyone else do her wedding cake. She wanted the sheer pleasure of creating a one-of-a-kind piece for her big day. To be honest, she'd choked up on more than one occasion while sketching the cake design. But, she was also a realist. She knew she shouldn't be working on her wedding weekend. She'd prepared all of the tiers and the fondant flowers that would cover the cake ahead of time. Her assistant, Cassie, had driven everything up to the Stratton Snowcap Resort this morning and was currently assembling the tiers and putting on all of the final touches in the resort kitchen. Jesse couldn't wait to see the end result. Nothing made her happier than creating a personal piece of art for the brides who came to her, but making her own had been incredibly special.
Just as Zach was about to lift Jesse from the couch in front of the lobby fireplace, Jesse heard her sister's voice.
"No! Jesse, please tell me you didn't break your leg. You weren't supposed to ski this weekend!" Kelly scolded, as she crossed the lobby with her two-year-old daughter in tow. At least, Jesse assumed it was Maddie. The toddler was bundled in more clothes than Jesse would have thought possible. It was either Maddie or a mini Stay Puft Marshmallow Man in Kelly's arms.
Jesse cringed. "Not skiing, and thankfully, not broken. I twisted my ankle on the staircase and would have most likely broken my neck or a few limbs if Zach hadn't caught me before I went toppling down the entire staircase."
Kelly looked toward the wide lobby staircase and sucked in a deep breath. "You really could have broken your neck. Oh, Jess, I'm so sorry," Kelly said, and Jesse knew her sister understood just how she felt.
Kelly was Jesse's Matron of Honor and had been by her side through planning every detail of her winter-wonderland wedding. It was two weeks before Christmas, the Vermont mountains were covered in snow, the tree limbs iced over, creating a sparkling backdrop to what should have been a perfect weekend with family and friends. And, here she was, sitting on the couch with an icepack on her ankle.
Jesse pasted a smile on her face. "It's all right. The doctor said it's possible I will be able to walk down the aisle on Saturday. And, if I can't," she said, leaning forward to take a smiling Maddie from Kelly's arms and settling the toddler into her lap, "I'm sure Mads here will loan me her stroller. One of you can wheel me down the aisle."
Jesse made a face for her niece and rubbed her nose against the chilly red one peeking out between the layers of scarf and hat. Maddie squealed with delight and placed her tiny mitten-covered hands on either side of Jesse's face before planting a sloppy wet kiss on her mouth.
"I'm sure she'd be happy to lend her stroller to the cause. What I want to know is, what came out of your mouth when you fell?"
Jesse rolled her eyes at Kelly, but Zach just laughed and answered the question. "I believe it was something like jaaaaaaaa, which I assume was intended to be jumping johozafit frog butts, but it never really made it out of her mouth."
Kelly and Zach laughed while Jesse tried not to crack a smile. Her attempts not to swear were of great amusement to her friends and family. Usually, she was able to substitute creative replacements for the f-bombs she used to drop. It was only when she became truly livid that she slipped up.
Kelly still had a smirk on her face when she spoke. "Gabe and PJ were out in the parking lot unloading when we came in. They should be here any minute. I invited them to eat with us tonight, if that's okay?"
"Yup. The more, the merrier. I haven't seen them since they came back from that New Zealand trip. Was it everything PJ had hoped it would be?"
PJ Cantrell—soon-to-be PJ Sawyer once she married Gabe—had spent her life on the road as a famous country singer turned pop star. She had traveled all over the world, but she rarely saw anything more of the cities she toured in than the airports, hotel rooms, and venues she performed in. Since her retirement earlier in the year, she and Gabe had been on more trips than anyone could count so she could experience the things she'd previously missed out on.
"It was. Wait until she shows you pictures. They did some backpacking while they were there. The shots she has of the mountains and ocean are incredible. She said they almost bought a house and settled in there to stay, it was so gorgeous."
Jesse grinned. She wouldn't be surprised in Gabe and PJ bought a vacation home in at least half of the places they'd been vacationing. Although they were two of the most down-to-earth people she'd ever met, between the hotel empire he'd recently sold and her years topping the charts, they had more than enough money to buy a home in every city in the world if they chose to. It would almost be disgusting if they weren't such nice people.
"Zach was about to carry me to the kitchen to check on the cake assembly. Want to come?" Jesse asked Kelly as Maddie wriggled down and began to explore the other couches and the coffee table. Kelly reached a hand out to steady the rack of magazines the little girl had almost toppled over and smiled.
"I think we'd better get Maddie settled into our room. Jack's checking us in. Can I meet you back down here for dinner in a few hours?"
"You bet," Jesse said with one more smile toward Maddie as she turned her over to her mother. Zach lifted Jesse in his arms and they headed toward the restaurant. "We'll meet you guys in the restaurant at six," she called over her shoulder with a wave, before lacing her arms around Zach's strong shoulders.
At least Kelly and Jack had arrived safely. Jesse and Zach's parents would arrive tomorrow morning, as would her other bridesmaids, Jill Weston and her husband Andrew, and her high school friends Lea and Kate. Jennie and Chad had already arrived with their daughter Ella earlier in the day. Other guests would be trickling in over the course of the next two days.
After passing through the two-way swinging door that led to the kitchen at the back of the restaurant, Zach put Jess down next to one of the clean metal worktops so she could lean on the counter and not have to put pressure on her foot.
"It's beautiful, Cassie," Jesse said as she watched her assistant place the last fondant ribbons that encircled the base of each tier of the peach and ivory cake. Seeing her own cake, she had even more appreciation for how her brides felt on their wedding days when she created a cake for them. It was everything she'd dreamed of when she was a little girl picturing her wedding day. It was elegant, with a classic style that was understated but managed to speak volumes anyway.
"Thanks, boss," Cassie said, not looking up from her work. When she'd finished straightening the elegant bow that closed off the ribbon on the bottom tier, she stood and wiped her hands as all three of them looked at the cake. The kitchen was quiet, but it wouldn't be for long. Any minute, the room would be filled with activity and noise as the chef and his staff prepped for the dinner crowd.
"It's perfect, Cassie. You did a great job! Zach can help you wheel it into the cooler. Chef Allard said to put it in the walk-in marked back-up so it's out of the way."
"You both did a wonderful job on it," said a voice behind her, and Jesse turned to see the chef and the resort's event planner, Amanda, enter the room. "The cake is beautiful, Ms. Bradley," said Chef Allard as he crossed the room to kiss her hand. Jesse blushed at the man's effusive nature.
"I really appreciate you letting me do this. I know opening your kitchen to an outsider can't be easy." She had been a bit surprised when he'd agreed to it so easily. She thought for sure he would fight her on letting her bake her own cake, much less, having one of her people assemble it in his space.
"Honestly," he said, with a bit of a grin to Amanda who had nodded and smiled her greeting silently to Jesse, "it was somewhat of a relief to have you take it over. I couldn't imagine how I was going to prepare a wedding cake following the strictures of a raw diet. It was a challenge in itself to prepare a sit-down dinner that met your guidelines, but I think you'll be very pleased with what we've come up with."
Jesse stared at the man in front of her, wondering if perhaps she'd just imagined the words coming out of his mouth.
"Ex-excuse me?" she stammered as she felt Zach and Cassie's gazes fall on her. She thought they must be every bit as confused as she was.
"The raw meal plan you wanted. Nothing cooked above one hundred and fourteen degrees Fahrenheit."
Has this man lost his ever-loving mind?
Jesse shook her head, a tentative smile on her face. Surely, he and Amanda were playing some kind of joke on her. "I don't understand."
"We've got the salad, of course, but that was the easy course. I've found a wonderful recipe for a Portobello mushroom and spinach quiche." He said this last word with fake air quotes before continuing despite the dumbfounded look Jesse was giving him. She was sure her look must match equally stunned expressions on Zach and Cassie's faces. "We'll pair that with shredded Brussels sprouts and hazelnut pesto stuffed tomatoes and a cold noodle salad."
He and Amanda both looked so utterly pleased with themselves, Jesse almost regretted the anger she felt boiling inside at their little joke. After her fall earlier and the news about her ankle, she wasn't in the mood for any jokes about her wedding preparations. But, Chef Allard continued right on.
"So, you can imagine my relief when I didn't have to figure out how to make a tiered wedding cake out of raw nuts and coconut oils or something along those lines. I'm looking forward to tasting what you've come up with and dying to see how you managed to create a consistency that wasn't too heavy to stack but sturdy enough to hold together without eggs and baking."
Jesse shot Zach a pleading look over her shoulder before turning back to the two seemingly insane people in front of her.
"Please tell me this is your idea of a joke." Her voice was a little faint and she knew they understood now that she had no idea what they were talking about when the smiles dropped from their faces.
"Uh, your menu requirements," Chef Allard said.
Amanda nodded. "Your raw food requirements for the wedding dinner."
"Oh, no, no, no, no," Jesse said, shaking her head perhaps a little too much, as though she might possibly be able to will this little conversation away if she only said no enough times. "When Zach and I came for our food tasting three months ago, we finalized the meal with three choices for our guests. The filet mignon, chicken roasted under a brick, and the cedar plank roasted salmon. We faxed over the final head count for the orders to you two weeks ago."
Jesse's voice was climbing in pitch and volume with each word. If this was a joke, it was time for them to end it. But, as Jesse watched Amanda scramble through the folder of paperwork in her hands, she realized they weren't joking at all. Somehow, Amanda and Chef Allard truly believed she had asked for an all-raw menu. Jesse had certainly heard of people who ate an all-raw diet. She just couldn't fathom how someone would think that was appropriate for a wedding menu. Or why on earth these two would be so convinced she had.
Zach slipped his arms around Jesse's waist while they watched Amanda flip through pages as she and the Chef exchanged confused looks.
"Oh, no."
That was so not what Jesse was hoping to hear from Amanda when she finally settled in on one page in the folder.
"I just don't know how this could have happened." Amanda turned to the Chef, a panicked expression on her face. "Their order is in here, but it's covered by the order for the wedding next week. Something got misfiled and no one noticed the names. This is the Bradley/Harris wedding and next weekend is the Bradford/Horton wedding. It was so similar…" Her voice trailed off as she looked from Jesse and Zach to Chef Allard before handing him the papers she'd uncovered.
"Please tell me it's not too late to get what you need for our meal. I can't have a raw menu served to our guests," Jesse said, desperately shoving aside the urge to go utterly bridezilla on them. She'd been on the receiving end of some bridezillas at her bakery and she wouldn't go there if she could help it. But, damn, she was close. Because, really? They mixed up the orders and no one noticed? No one?
A flurry of activity followed. Chef Allard got on the phone to his suppliers and Amanda apologized profusely, promising to reduce their bill in exchange for the trouble. All of this took place as the sous chefs and assistants swarmed the kitchen to prep for the evening's dinner. Jesse was huddled up with Cassie and Zach as they waited, trying to see what the Chef could come up with as an alternative to a meal made of uncooked food.
"Really, what's the worst that happens? We serve quiches that need air quotes because they don't really contain any eggs—the primary ingredient in quiche, by the way—to our guests? At least, I assume raw quiches don't actually contain any egg, because if they do, yuck. Am I right? Yuck." Jesse glanced back and forth from Cassie, who stood biting her bottom lip and looking a bit uncertain, to Zach. He calmly rubbed Jesse's arms and steadied her.
"They'll come up with something, Jesse. It might not be our first choice of everything, but I'm sure they can come up with a beef, chicken, and fish selection that our guests will love. No one ever remembers what they put on the RSVP card for these things anyway. It's not like your mom's going to remember that the fish selection should have been salmon and not something else if we have to make a last minute change."
Jesse nodded and let out a breath. "You're right. Absolutely. If we need to change the menu, we change the menu. Not the end of the world." She looked to Cassie who simply nodded, but the expression on her face seemed more hopeful desperation than confident support. Jesse looked back to Zach. She'd do better to focus on him for reassurance right now.
"Jesse," Amanda said, approaching with more than a bit of wariness. This was not what Jesse needed at the moment. She wanted confident troubleshooting, not nervous, apologetic looks. "We were able to get everything we need. Almost. Sort of."
Chef Allard stepped forward and Jesse was happy to see him looking more assured than Amanda had. "They were not able to do enough filets to fill your order and unfortunately, they can't substitute with a strip or a rib-eye either. But I can do sirloin instead and we have what we need to do the chicken and salmon. I know it's not exactly what you wanted," he said, sparing a glare at Amanda who had the decency to look guilty, because, after all, there was a long line of difference on the scale between sirloin and filet mignon, "but I think you'll be pleased with the meal."
Jesse nodded. So, it wouldn't be what they wanted—not even remotely given the vast difference between a filet and sirloin—but the truth was her friends and family weren't likely to care. And, she'd tasted Chef Allard's food several times. She was confident he could work wonders with any cut of meat.
"Good. Sounds good. Let's do the sirloin." She let her eyes meet Zach's and found him smiling at her. She wouldn't let a crazy high-heel accident and a mix up in the kitchen ruin their wedding. She'd just stay calm through Saturday when she could finally marry the man she loved.
COLLAPSE