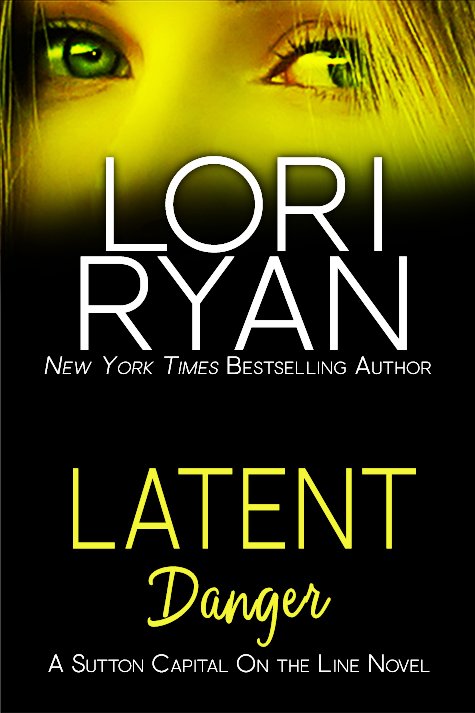 Danger they never saw coming.
Detective Zach Reynolds' latest case shares too many similarities with a series of thirty-year-old murders. It's more than just a copycat mimicking a similar MO. When the evidence can't be denied, Zach will partner with Shauna O'Rourke, a cold case detective he's never quite managed to get out of his mind.
The closeness of the case gives Zach the shot he needs to convince Shauna to give him a second chance at love. But will they be able to uncover the danger their victims never saw coming and try their hand at love this time?
NY Times Bestselling Author, Lori Ryan, takes readers on a breakneck speed adventure ride in this spin-off from her bestselling Sutton Capital Series. Don't miss the second book in the Sutton Capital On the Line Series. This book can be read as a stand-alone story.
Excerpt:
Chapter One
Zach Reynolds stepped out of the vehicle and looked around at the lonely stretch of road. It was a heavily wooded area and one of the only places dark and isolated enough for what they were about to see. The early morning hour meant the light would be dim once they entered the woods. Another twenty minutes or so, and the sun would be strong enough to begin to break through the cover. But not yet.
"You think it's her?" His partner, Ronan Cafferty, didn't have to tell Zach who he was talking about. Carrie Athill, daughter of State Senator Jeffrey Athill had been missing for three days. Zach and Ronan had been working the case, and so far had nothing to go on.
"I hope not."
"The age is right."
READ MORE
Zach nodded. The case was taking its toll on him. Carrie Athill was only seventeen. His niece was the same age. It was hard to block out images of her whenever they worked a case like this. Thankfully, it wasn't often they did. New Haven, Connecticut maintained a fairly low crime rate, at least so far as major crimes went.
They walked toward the area six yards in from the edge of the road, where portable lights, crime scene tape and the presence of the local medical examiner, Dr. Mary Kane, told him they would find the body.
They'd been told the body of a teenage female had been found. It was about all they knew, so he didn't say more. Zach was never talkative at six in the morning, but he was particularly quiet today. He'd really been hoping the Athill girl had run away from home and was hiding out at a friend's house or holed up with a boyfriend somewhere.
Dr. Kane looked up as they approached, her sharp eyes and no-nonsense attitude always welcome at a crime scene. "Gentlemen."
Zach scanned the body, taking in as much detail as he could. The details weren't pleasant, but he didn't bother to think about the fact that they would be seared on his brain forever. It was the price they paid for the word they did. Not a lot of perks, a lot of shit you couldn't erase or download if you didn't want to remember it, but there were the payoffs when they saved someone or brought a criminal to justice. Some days, it had to be enough.
He quickly assessed the girl was not Carrie. It didn't make him feel much better, though, because the young woman splayed out on the ground was someone else's daughter. It didn't matter what her name was—she was dead, and her death hadn't been peaceful.
"What do you have for us, Doc?" Ronan asked.
"Strangulation is the likely cause of death, but I'll confirm when I get her on the table. You know the deal."
Zach frowned, crossing his arms as he took in the image before him. Unlike Carrie, this girl had brown hair and her lifeless eyes looked like they'd been hazel, not the bright blue they'd seen in photos of Carrie Athill. Even in death, he could tell the eyes weren't Carrie's.
The body lay on the forest floor, arms and legs askew. There had been no posing, no attempt to clean up the body or set up a supposedly serene stage for her. Ugly bruising that looked like it had come from a rope, ringed her neck.
Her lips had been painted with a garish red lipstick, but the job was done poorly, giving the effect of a clown as opposed to makeup meant to enhance beauty. It was as if their killer meant to torment the girl, even in death. Meant to humiliate and demean. He watched as Dr. Kane placed brown paper bags over the hands and she and her assistant prepared the body for transport.
"Do you think she was killed here or are we looking at a dump site?" Ronan was blunt, but Zach didn't object. They all tended to wall off any emotional reaction at scenes like this. The more you stuck to the facts, the easier it was to keep going. To do what had to be done to catch the person responsible and put them away.
"She was likely killed elsewhere and moved."
Zach waited. He knew Dr. Kane would explain her reasoning. She always did.
She held up her hand to halt her assistant before pointing a gloved finger to the side of the girl's face. She indicated the purge fluid coming from the nose and mouth. It looked a lot like blood, only it was browner, uglier, somehow.
"The pattern." Dr. Kane used her finger to make a circle in the air around the side of the face. "Something laid against her face on either side and left a pattern."
"Blanket, you think?" Ronan asked. Dr. Kane was pointing to the way the purge fluid drained from the side of the nose onto the cheek, but then the clear drain marks turned into smudges with a patterned marking, as though a blanket or other material had been wrapped around the body when the fluid was still damp. It was likely used for transport.
Zach hadn't seen any evidence of a blanket or other wrap around the body, but he'd pull a few uniformed officers to canvass the area in case the killer dumped it nearby.
"Possibly—" Dr. Kane began the sentence, but Ronan finished it.
"But you'll let us know more when you get her to the lab."
"Exactly." Dr. Kane grinned.
Zach hoped she'd find some trace evidence to give them something to follow up on. He cursed under his breath as he saw news vans pull up. The news had had a field day in March when a sniper was terrorizing the city. Now this.
So much for New Haven being a city without a whole lot of major crime.
"There's something else, gentlemen."
"What's that?" asked Zach as he eyed the news vans. So far, the uniformed officer up on the road was keeping them back.
"Have you guys heard of the Marsh Killer?"
Ronan snorted. "Who hasn't?"
Zach didn't answer. The Marsh Killer was an old case. Very old. Back in the mid-eighties, three young women had been killed, their bodies found in the woods in New Haven. Only one had been left in the marshes in North Haven, but Marsh Killer had a better ring to it than Woods Killer, he supposed. His head had started running through the details of the case as soon as she'd said the words, and he saw the point she was making before she voiced it.
"There are…similarities." Dr. Kane seemed hesitant to even say it.
"Jesus, I didn't see it before. Did you work the case?" Ronan asked.
Dr. Kane shot him a look. "It was a little before my time." Zach buried a grin. He wasn't sure how old she was. He'd guess in her late forties. "I came into the department about eight years after the murders stopped, but I've looked over the files. I pull out cold cases from time to time and examine them."
"I figured that would be on the state's desk by now." Zach was intimately familiar with the state's cold case division for the very reason that he'd once been intimately familiar with one of its investigators. He didn't dwell on the memory. Instead, he focused on what was pertinent. A case that old would have been transferred out of the city's files and up to the state's division long before this.
Dr. Kane nodded. "True. The state's attorney sent it to them years ago, but as far as I know, they've never gotten anywhere with it."
"We'll need to see who in our department is assigned to work with them on it," Zach said by way of response. Each cold case had someone in the local precinct assigned to work the case, but in a case this old, they probably weren't very active with it.
Zach eyed the news trucks. The press was going to go crazy if they got wind of the similarities in the case. "How close are the similarities?"
Dr. Kane took her own look at the news vans before answering. "It's not the same. The bodies were cleaned up and posed in that case, and the lipstick was neatly applied, not made to look clownish like they are here. But, the rope, the age and sex of the victims, method of death. All of that—it's eerily similar."
"A copycat copying a decades old case?" Ronan asked.
Dr. Kane tilted her head with a small shrug. "It's possible. That, or coincidence."
Zach had a feeling they felt the same way about coincidences as he did. In their line of work, the rarely cropped up. There wasn't time to speculate further. A vehicle Zach recognized came to an abrupt stop behind the news vans. He didn't wait for the couple to get out of the SUV. He moved that way as Ronan took a call on his cell phone.
By the time he got up to the road, the Senator and his wife were coming toward him. Toward the crime scene.
"Oh God, Oh God." They weren't close enough for them to see the body, but Maribeth Athill still repeated the words over and over. There were sobs clogging her throat and he knew the woman had to be close to breaking down.
He hoped cameras were far enough away that they wouldn't hear his words, but he needed to stop her before she got closer. Seeing that girl right now wouldn't help the woman. "It's not her, Mrs. Athill. It's not Carrie."
She fell against her husband, a hand at her chest, but the tears came anyway. Tears of relief, most likely. Maybe also even a few tears at the fact their nightmare wasn't over. Not having closure was a hell of a burden.
Zach couldn't imagine what it would be like— No. He couldn't even go there. Couldn't picture what it would be like to know Naomi wasn't safe in her bed at night. That she might be out there somewhere hurt or worse.
"We heard on the news," the senator offered, but Zach doubted it. He had a feeling they had more than one person keeping them informed at the precinct. Someone had tipped them off when the call had come in. That person wasn't doing them any favors.
One of Zach's first calls after leaving the scene would have been to the Athills. He'd tell them that, but they wouldn't listen. Couldn't.
He got them headed back toward their car, thankfully noting they didn't stop to speak to the press, despite cameras being shoved in their faces.
Ronan joined him as they walked back toward Dr. Kane who had just finished securing the body for transport back to her morgue. "That was Cal. Says a missing person's call came in late last night on a girl this age. Adrienne Edwards."
Ronan tilted his phone screen toward Zach where a picture of a smiling girl posed in a typical senior class picture was displayed. She had a bright smile as she leaned against a tree, her arms set at a posed angle, one foot turned just so. Zach had always thought those poses looked silly. Still, the girl was beautiful. And he had little doubt it wasn't the one he'd seen laid out moments before, the life drained from her body.
They stood and watched as the body was taken away and the crime scene technicians began to take pictures of the area where it had lain. Zach knew they'd photograph the space first, then scour it for any evidence that might lead them to their killer.
"Identifying marks?" Zach asked.
"A small round birthmark on the back of her left hand." Ronan looked at Dr. Kane as he spoke, and she nodded.
Both men cursed. Of course, they'd have the family identify her or maybe corroborate the ID with photos of the birthmark if the family had any, but it was looking like they had their victim's name. Which meant a trip to the family to let them know their world had just changed forever.
Chapter
The address listed on the Edwards girl's missing reports file had told them the home would scream money before they got to the front steps. Still, the meticulously manicured lawn and pricey cars in the driveway confirmed it.
"Mr. and Mrs. Edwards? May we come in?" Zach had only just gotten the words out when the woman standing before him seemed to crumple.
"No! No, no, no." She didn't say it but her face pleaded with them to let her have hope a little longer.
Zach knew it wouldn't help. Straight forward and direct was going to be the best way to break this news. They would be compassionate. They would give the family time to absorb it. But, they wouldn't drag out the notification.
Two men came forward, one wrapping his arms around the woman, the other letting the Zach and Ronan in and shutting the door.
"I'm sorry, Mr. and Mrs. Edwards. We believe we've found your daughter's body." Being straight forward didn't make it easier for Zach to get the words out.
The man whom Zach took to be Mr. Edwards looked at them. "Can you give us a minute, officers? My brother can show you into the living room."
Zach and Ronan nodded and followed the brother into a room that looked as though it had been professionally designed. The furniture was pure white, setting Zach on edge. How did people live with white furniture? And were those carpets cut for the room? They had to be. The area carpets stretched nearly to the edge of the room, leaving only about a foot between the wall and the carpet edge. That edge traced the exact shape of the mantle and each of the columns that framed a large doorway leading into what looked like the dining room.
"I'm Geoff Edwards." The man offered as he sat across from Zach and Ronan on the couch. He looked toward the doorway Mr. and Mrs. Edwards had gone through and shook his head. "They're going to blame themselves for this. They don't usually stay out late, but they went to an anniversary party for some old friends of ours last night. Didn't come home until after midnight."
"They called in the report on Adrienne last night?" Zach knew the answer to the question. He simply wanted to direct the witness to the start of Adrienne's disappearance.
A nod came with the response. "That's right. Adrienne's mom has been blaming herself all night because she didn't check on Adrienne before they left for the party. The girl's door was shut and she was trying to give her more privacy lately. When they came home last night, Adrienne wasn't in her bed."
"We'll need to talk to them later, but can you tell us when was the last time anyone saw Adrienne?" Ronan asked.
"As far as I know, it was at school. We've contacted all of her friends." His voice trailed off and he seemed lost for a minute, before looking back to them. "How did she die?"
"The preliminary cause of death is strangulation." Straight forward, Zach reminded himself. "We don't have an exact time of death, but it's possible discovering she was missing earlier wouldn't have changed things." He hoped so. Maybe it would bring some small measure of peace to the Edwards.
"Do you know who did this? Is it connected to Carrie's disappearance?"
Zach and Ronan both sat forward. "Did Adrienne and Carrie know each other?"
"Yes." Geoff Edwards rubbed his forehead. "They were good friends. They went to school together."
"To Elmhurst Academy?" Zach asked.
Geoff nodded.
"Do you have kids there, too?" Ronan asked.
Adrienne's uncle frowned and shook his head. "No. My wife and I never had any kids." There was something in his eyes when he said it, but Adrienne's mother and father chose that moment to walk in. Camden and Isabelle Edwards.
It took moments to fill them in on what they'd already covered with the uncle. Isabelle held herself together this time, only barely.
"Did you find Carrie?" Isabelle almost asked the questions as if she couldn't bear to hear the answer. "Is she—?"
Zach shook his head. "We haven't located her. We're not sure yet if the two cases are related."
"Everyone's been saying Carrie ran away since there wasn't any ransom demand," Camden Edwards said.
"It's possible." Zach wished they had answers for the family.
They went through the usual questions after that. Anyone who might want to hurt the family or Adrienne? Anything suspicious in recent weeks or days? Any information they had on their daughter's whereabouts beginning at breakfast and going through the day yesterday?
"She was supposed to come home after school. We'd been fighting lately," Mrs. Edwards said, and her voice held the heaviness of a parent who would do anything to undo the last fight they'd had with a child. "I told her she had to come home and work on her homework instead of hanging out with her friends. Her grades had been slipping."
"What would 'hanging out' have been for her?" Ronan asked.
"Oh, they might go to one of the other girls' houses or to get ice cream. They weren't trouble makers. They hung out at the library a lot." Mrs. Edwards offered.
Zach knew hanging out at the library could mean ditching your books there and leaving, only to come back just before your parents were due to pick you up. "Did she have her own car?"
"Yes, but she only drove it on the weekends. We didn't want her having too much freedom during the week. We drove her to school and our housekeeper would pick her up on days she didn't go to a friend's house or out with friends."
"Did the housekeeper pick her up yesterday?"
"No. We called her last night when we realized Adrienne wasn't here." This was delivered with a sob and Adrienne's father took over.
"She said Adrienne had texted her that she would get a ride home with a friend later. Ivanka left at four o'clock, so she assumed Adrienne would be home shortly after that." Edwards rubbed his wife's back as he spoke.
When Zach confirmed that Ivanka was the housekeeper, he got a nod and continued. "And no one saw her in the afternoon?" Zach asked.
The look on the man's face was pained as he shook his head. "We came home to get ready quickly that afternoon. Her door was shut, and we just…" Shoulders slumped and his head hung, as though he couldn't help but blame himself for his daughter's death.
Zach suspected that would always be the case, even if Adrienne did turn out to have been dead long before the parents came home that afternoon.
Edwards spread his hands, palms up, helpless to change what had happened. "She always listened to her music with her headphones on in her room. You hear about kids blasting their music, but that isn't the way they are. In truth, they put those earbuds in and shut themselves into their own world."
Zach and Ronan stood. They'd need to talk to a lot more people to try to piece together where Adrienne had gone when she was killed. Because right now, it was looking for all the world like Adrienne Edwards might have walked right into the hands of her killer.
COLLAPSE