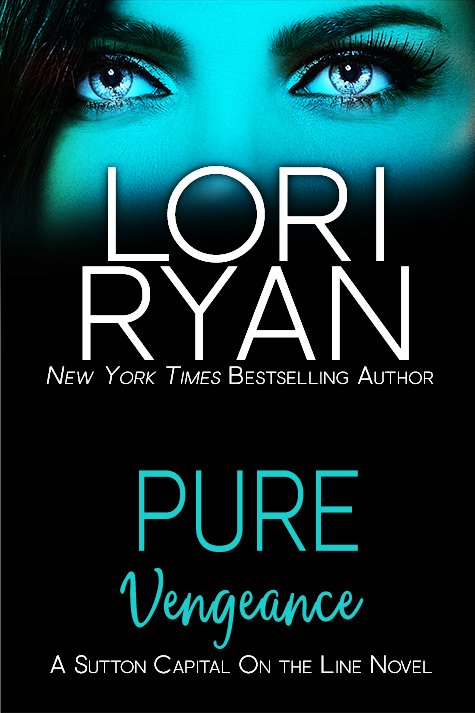 Lives and hearts are on the line. 
When Cal Rylan's partner is caught in the crossfire of a vigilante sniper, he's forced to partner with FBI Special Agent Eve Sands to stop the killer before any more innocent bystanders are hit.
As they get closer to the truth, the stakes get higher, both in the case and in their hearts. Cal's biggest fear is that he'll have to watch another of his partners fall to the sniper's bullet. And that's just not something he can go through again.
Especially not when that partner is Eve, a woman who is quickly working her way into not only his heart, but his soul.
NY Times Bestselling Author, Lori Ryan, takes readers on a breakneck speed adventure ride in the first book in this spin-off from her bestselling Sutton Capital Series. Don't miss the first book in the Sutton Capital On the Line Series. This book can be read as a stand-alone story.
Excerpt:
Chapter One
"He's like a real-life Joe Pesci." Cal Rylan looked at their witness. They'd finally stuck him across the room with a uniform to babysit. If Cal had to listen to one more of the man's stories about the history of cheese, he'd lose his mind. "Only not as funny. I could have lived forever without knowing there was a debate over whether cheese was developed in Europe, Central Asia, the Sahara, or the Middle East, and been totally happy."
"You mean Leo Getz." Cal's partner, Jarrod Harmon, didn't look up from where he sat skimming through emails. They were scheduled to leave in ten minutes and Jarrod wasn't one to waste time nowadays. The more he took care of things like emails and reports in the in-between times, the faster he'd get home to his new girl.
READ MORE
Cal was happy for Jarrod. Since the man had admitted he'd fallen for Carrie Hastings, he hadn't stopped smiling. So what if Cal had to bite back a stab of envy now and then?
But he was beginning to see how alone he was. How much better his life could be…well, it wasn't worth really thinking too long about it. It wasn't like he could sign his ass up for online dating or anything. What would he write? Overworked cop who's seen too damned much and has no life outside of catching killers. Yeah, that should draw in the women.
"Leo Getz?" Cal asked.
"Yeah." Jarrod looked up this time. "Leo Getz. Joe Pesci is the actor. Leo Getz is the character."
Cal shrugged. "Whatever. You get my point." He paused and glanced over his shoulder at their witness. Eddy Preiss was no trophy in the looks department. He was short and balding, but still fighting acne in his forties. "You get the idea maybe we aren't being told all we need to know about this assignment?"
Jarrod's eyes had gone back to his email, but Cal's question brought them right back to his partner. They'd learned a long time ago to listen to each other's hunches. On more than one occasion, nothing more than gut feeling had saved their asses. It was something they paid attention to.
"No, but if you've got concerns…" The rest didn't need to be said. Jarrod would back Cal if he wanted to dig deeper to set his mind at ease.
The men stood and walked toward their captain's office. Cal knocked on the door frame, waiting for Captain Calhoun to nod before they entered.
"Captain, you got any more information on this guy we're bringing to the Feds this morning?" Cal was the one to ask the question. The Captain was generally open with them, so neither man thought much of asking for more. They'd been told about the assignment the afternoon before, but there hadn't been much detail to go with it.
Calhoun frowned and shook his head. "No. He was brought in on a petty theft charge. I got the sense the arresting officers don't really expect him to have much information, but Preiss claims he's got something worth talking about and he'll only talk to the FBI. Someone in the prosecutor's office is probably just trying to kiss ass with the Feds. Told them we'd do the courtesy of transporting him over to their office."
Cal nodded. "Okay." He didn't move to leave.
"Something I should know about gentlemen?" Calhoun asked.
"Just a bad feeling." Cal shrugged and rubbed his stomach absently.
Calhoun leaned back in his seat. "I don't have any reason to think anything's off about this. Simple interview. You sure you didn't eat something bad last night?"
Jarrod shot a look toward Cal and Cal nodded. If the Captain said it was tight, he'd have to accept that.
Cal laughed. "Could be. Franklin and Motz insisted on eating at some dive I'd never heard of. Should've known not to listen to those two." The men stood and the Captain went back to whatever he'd been working on. Cal didn't envy the man the time he put into reports and administrative bull. He wouldn't have the patience for it. He'd be bored sitting in that chair within days.
Jarrod spoke quietly as they left the office, looking at his watch. "It's time. We good?"
Cal nodded. "Yeah, we're good. Shit, I'm probably just dreading the ten-minute ride in a car with this asshole while he tells us more about cheese or maybe his signed baseballs." Cal appreciated baseball as much as the next guy, but he couldn't get on board with a forty-year-old man bragging about his collection of fifty-two signed baseballs for upwards of twenty minutes.
"I hear ya."
Five minutes later, Cal pulled his car up to the back exit of the station. There was a ramp with a seven-foot concrete wall that ran along it at this exit. With Cal's car ready at the end of the concrete wall, they'd have little exposure to prying eyes. Cal preferred it that way. He stood next to the door and knocked, then turned to face out, scanning what he could see of the parking lot. All clear.
Jarrod opened the door and they took their formation easily, falling in with Cal in front, their witness next, and Jarrod in the back. It was a short ride over to the federal building. They'd kill time over there while this guy talked to whoever he was meeting with, then either leave him and transfer custody, or bring him back to lockup.
Warm spray hit the back of Cal's neck and he raised his hand to feel it, part of him knowing what it was before he saw it. The sound of the gunshot caught up to the bullet seconds later. Cal turned to cover the witness, but it was already too late.
"Fuck!" Cal didn't wait for another shot. The back door opened as others inside the building responded to the shot. Cal grabbed for the witness and Jarrod, dragging both through the back door as two uniforms flanked him. One held the door. The other reached to help him with the dead weight he was dragging.
Dead weight. Cal's gut churned and flipped, threatening to give up its contents.
Jarrod was hit.
A tornado whirled in Cal's head as he took in the scene. Blood. Two blood trails covered the floor, but the larger of the two ran to the witness. Blood seeped over the man's chest and a silver dollar sized hole stood above the man's heart. There was no life in his eyes.
Cal turned to Jarrod as more officers spilled out to find the asshole who'd shot at them, but Cal didn't hear any more shots, from either the attacker or the officers.
Christ, how would he tell Carrie? Cal couldn't go through this again.
Jarrod lay unconscious on the floor. Cal took in his injuries, ignoring everything around him—ignoring the Captain's shouts for answers and the rookie that stood frozen against one wall, staring at the blood. Jarrod's arm was bleeding, but a quick examination showed it was nothing more than a flesh would.
Cal moved his hands to his partner's head as a detective from major crimes began to assess the witness's injuries and begin CPR. Cal wanted to scream at the man, to tell him the fucker was well past dead. But he didn't. He found a wound at the back of Jarrod's head and applied pressure as he tried to tell himself this couldn't be a bullet wound. It had to be from the fall. Rationally, he knew it, but that didn't stop the panic.
"Where is the bus?" He hollered. "Where the fuck is the bus?" They needed an ambulance now, not ten minutes from now.
Cal looked down as he waited, praying like hell he wouldn't have to tell Carrie that Jarrod hadn't made it.
He couldn't fucking do that again. Could not.
Chapter Two
Eve Sands didn't wait to be told not to go. She'd been assigned to this witness and she was damned well going to follow through. Especially now that he'd been shot.
She wasn't stupid. She knew Special Agent in Charge Richard Dyson was pissed at her and this assignment was payback. Of course, when he'd assigned her to talk to this witness, he had no idea the guy would be shot dead. He considered this his way of sticking her out in the dog house and leaving her until she'd licked his boots enough to be allowed back into his good graces.
Sadly for him, Eve didn't lick anyone's boots. He was going to be waiting a good long while for that one. He couldn't get her off the task force he was leading—at least not without somehow manufacturing a reason for their supervisors—but he could stick her with the crap no one else wanted to handle.
This witness had definitely been considered a crap assignment. She'd been on her way to the office for the interview when the call had come in about the shooting. And yes, she should call in to Dyson before going to New Haven PD, but if she did that, he'd tell her to come in and he'd send someone else out. Someone who was currently in his favor.
Instead, she turned and headed straight to the police department. She tended to be one of those ask-for-forgiveness-instead-of-permission kind of people. Besides, if Dyson had screwed up and didn't consider this guy to be a major witness, he might be in for a nasty surprise. After all, the guy had been shot before he could talk to her. That had to mean something.
She flashed her badge for the uniform standing at the crime scene tape and cringed. She felt for these guys. To have your own precinct surrounded in crime scene tape had to hurt. She'd heard a detective had been shot as well. She sent up a silent prayer for him. Losing any of the guys on their side always hurt, whether they were local or federal.
"I want answers and I want them now." A grim-faced man stood over the remnants of what had to have been the paramedics' attempt to revive someone. He wasn't yelling, but his tone told her he was two seconds away from releasing all that anger. She might end up catching a lot of that before this little scene was over. The volume kicked up a notch as he continued. "I want to know what the hell this man was planning to talk to the feds about and why the fuck we didn't know about this level of risk."
"I don't know," another officer mumbled.
"Then find out! If he was going to be a target, we damned well should have known about it."
Eve squared her shoulders and stepped closer. "I can help with that." She held up her credentials. "Special Agent Eve Sands."
Sharp gray eyes turned toward her. He was a large man, but she would bet there wasn't an ounce of extra fat on that frame. Dark hair and intelligent eyes were set off by a hard jaw and a scar above his left eye running above the brow and up into the hairline. Whatever caused it had to have hurt.
***
Cal turned and narrowed in on the voice the minute she spoke. She was blonde, the kind of blonde hair that was almost white, but not the kind that looked fake. Her skin was pale and creamy and bright blue eyes blazed. She looked like she should be on the shelf in a doll store where no one could break her. She sure as hell didn't look like she should be in here, surrounded by blood and tough assholes, both the ones on the right side and those on the wrong side of the law. When he looked close, though, he could see her own toughness shining through. It wasn't readily apparent, but it was there. He would bet she had to fight tooth and nail to get any respect on the job.
He didn't introduce himself. He had more than one reason for going on the offensive with her. The fact his witness and partner had both been shot was only the start of it. The kick of attraction he felt for her was another. He didn't know where the hell it came from, but he didn't want it getting in the way. "Why the hell weren't we told this guy was high value? What the hell kind of clusterfuck is the FBI running?"
He would have known she was FBI without the badge. She had it written all over her buttoned up suit and the way she'd twisted her hair tight to the nape of her neck.
And where the hell had thoughts of the nape of her neck come from? Why did he even know those words? Cal shook his head to clear it and focused on the anger. He had every damned right to be angry here. The FBI's screw-up had just put his partner in the hospital.
She did that hands-on-hips thing his mom used to do to him. "You should treat any witness like he's high value. But if you must know, we didn't have any reason to think this guy would put any of you at risk. If we had, I'd have made sure you had that information."
She paused and he could see she wasn't going to say more, no passing on of the blame. He had to respect that. She was telling him she wasn't going to rat out whoever had been in charge. He could appreciate standing by your team like that. It didn't change the fact that the other half of his team was now injured.
He needed to get his ass over to the hospital. He should be there for Carrie. He shouldn't leave her waiting for news on Jarrod by herself.
"Any word on the officer who was shot, detective?" She drew the last out, clearly reminding him he hadn't bothered with the niceties of introducing himself.
His jaw clenched and he struggled to let out a slow breath through his teeth. "Detective Cal Rylan. My partner, Jarrod Harmon is the injured detective. Flesh wound to his arm, but his head took a bad hit. Waiting for news."
She nodded.
He looked around at the mess of bloody gauze and footprints that morning's events had left in their wake before turning his attention back on the woman. "What can you tell me about this witness?" He asked. He needed information and she was likely his best shot at getting it. Truth be told, he never actually minded working with the FBI. Most cops didn't. That came from the movies.
The FBI had resources they didn't. More resources meant more bad guys put away. Simple math.
"He claimed to have information on the Genesio crime family. No one was putting much stock in it, though. He seems to have no ties to them that we can find."
Cal looked down at the floor again and gestured at the carnage. "I'd say this lends a little more credence to his claim."
"It does." Her face was grim as she followed his gaze.
"Detective."
Cal turned to the uniform who approached. "What did you find?"
"We had two alerts from Shotspotter come in, but I don't think either of them is your shot," the man said. The Shotspotter system now covered a five-mile area of New Haven. When a shot was fired anywhere in that range, devices picked up the sound and the police station received an almost instantaneous report of the general location of the shot. It didn't provide an exact address, but it let them know where to begin looking.
"Why's that?"
"One was a few gangbangers over on Oakwood." The uniform looked down at his notepad. "The other was a single shot three quarters of a mile away. Officers responded but found nothing in the area." He shrugged. "Probably a car backfiring."
Cal shook his head. "Shotspotter rules out noises like cars backfiring at their central location within seconds of receiving the report, before they even forward any information on to us. If they sent us the report, it wasn't a car. Get some uniforms back over there to canvas."
He turned toward Agent Sands and read on her face the same thoughts running through his head. "Three quarters of a mile. This isn't an amateur."
She shook her head. "No, it's not. That's a hard shot to make."
Neither voiced the implications. They were looking for someone with some serious training here. Maybe even military.
Or worse, one of their own.
"I'll have someone run it through IBIS, see if there's a match once we get ballistics back. Shots like that aren't a dime a dozen. We could get lucky." Cal called out to the medical examiner, who stood talking a few feet away. She'd already sent the body over to the morgue with her assistant. "Dr. Kane."
Mary Kane turned and walked toward him. After introducing her to Agent Sands, he filled her in on the Shotspotter report. "Is it possible this shot came from that far away?"
She nodded. "I need to get inside the body and look around," she said, making him cringe at the thought. "But, yes, it's definitely possible based on what I saw of the angle of the wound, the tearing. I can confirm for you in a few hours."
Cal and Eve shared a look. It was hardly welcome news. They were looking at a frighteningly skilled sniper.
Chapter Three
Scout bent over and retched again. Vomiting after a shot like that was something Scout had gotten used to a long time ago. It was like the General still stood whispering directions before each shot. "Settle in. Wait for the moment. That sweat spot between the breaths. Wait for it."
Scout would make the shot, then puke within minutes, a result of stomach muscles clenched tight from the stress.
The sneer on the General's face would come right after Scout puked. Of course, the General only upped the pressure. A favorite game was to stand Scout's friends along the line of fire. If the shot wasn't just right, one of those people would be hurt.
At least today, there had been time to get out of the building and away from danger.
"Snap out of it, soldier!" That voice came again, clear as day, as though the General were still standing there.
Scout shook the memory loose and stood, wiping at the vomit. It was time to move. Three blocks away from the sniper's nest wasn't far enough.
"Don't be an idiot. Keep moving, Scout."
People who didn't know any better thought a sniper shot was impersonal. That you didn't have to get close to the target, so the physical distance allowed you to distance yourself emotionally. They couldn't be more wrong.
A sniper often had to look their victim dead in the eye before a shot. The eyes let you into that person's head, their heart, their soul. Shooting someone after witnessing that meant calling on the ability to block your own heart and soul. The General had drilled that into Scout.
Getting in and out of that building had been the easy part. Taking the shot? Pulling the trigger and doing what had to be done? That had been harder. But it had been necessary. It was well past time for this to happen.
Chapter Four
Eve followed Detective Rylan up to the Captain's office on the third floor. She'd been in the detective's division of the New Haven Police Department before, but it had been awhile. Not surprisingly, not a whole lot had changed. It was the same large room with desks stacked nearly on top of each other. The Captain's office and interrogation rooms were off to one side. Bathrooms at the back. Same dingy washed-out furniture.
She felt eyes on her as they headed for the Captain's office. It wasn't anything she hadn't experienced before. Eve knew she didn't look like she belonged on the job. Her own mother had told her she should be doing something "softer," as she'd put it.
The Captain nodded for her and Detective Rylan to sit, and they waited as he finished a phone call. She could guess who he was speaking with. Dick Dyson probably hadn't wasted any time calling over here to page her back to the FBI building so he could send someone else to cover things now that it had become clear this witness might have had real information.
She hadn't decided yet if she'd try to fight him on that. If she did fight it, she'd have to plead her case higher up the chain. It wasn't something she relished doing. It smacked of ratting Dyson out and she'd been avoiding doing that. She'd rather just keep her head down and do her job. It didn't mean she'd wouldn't continue to stand up to him when he was being an ass. But there was a fine line between that and running to the boss to fight her battle for her.
"Works for me if it works for you, Jordan."
Eve's head snapped up at the Captain's words. Jordan Carter was the Supervisory Special Agent in Charge of the New Haven office. She and Dyson both answered to him. They all answered to him.
Captain Calhoun hung up the phone, but didn't bother with any niceties. He must have known who she was because there were no introductions.
"I just got off the phone with your boss." He seemed to be talking to her, but he was busy riffling through papers on his desk. "You and Detective Rylan will be working together on this. Technically, NHPD will be leading this with an assist from the FBI, but that can change if we tie this to your task force."
Cal's brows rose. She hadn't told him about the task force yet. She mouthed "Genesio task force" at him and got a nod in response. Now the Captain did look up, splitting his gaze between the two of them. "You need to close this case quickly. Get yourselves set up in the incident room. It's yours for the time being. We've got enough pressure and bad press coming in from the James murders. I don't need this piled on top."
Eve nodded. She didn't need to be told what the James murders were. No one who lived in or near New Haven did. The press had made sure of that. The murder of Bryan and Christopher James—a Yale Professor and his son—had triggered a backlash against the New Haven PD. Sadly, people weren't looking back at the record decrease in crime or the uptick in the rate of case closures New Haven had enjoyed over the last two years.
When they hadn't been able to make an arrest in the mugging-gone-bad case because there hadn't been enough evidence to prosecute, the city and its police department had been targeted. Everyone under the sun was Sunday morning quarterbacking the case.
Eve didn't envy any of the brass in the department right now.
"Yes, sir," Cal answered and stood. Eve stood as well, following his lead. The Captain waived a hand at them to go when his phone began to ring again. No, she didn't envy the man his job right now at all. Dealing with the politics of their job wasn't something she'd wish on her worst enemy. She wouldn't even wish it on Dick Dyson, and that was saying something. She'd wished some pretty foul things on the man.
They walked from the Captain's office but didn't make it far before a detective who had apparently used a gallon of gel to slick back his hair stepped into their path. The man looked like he'd had a hard night of drinking and had cleaned himself up as well as he could. The effort didn't cover the red-rimmed eyes or the hint of unshowered body that hung around him.
"Let it happen again, huh, Rylan?" He went so far as to hike up the belt of his pants as he got in Rylan's face. It was almost comical. He turned to Eve. "You might not want to partner with this one. His partners don't tend to come out in one piece."
"Piss off, Jep." She heard a growl from deep in Cal's chest as he stepped to the asshole.
Fantastic. She was partnered with a head case who couldn't blow off a taunt from someone who was clearly trying to get a rise out of him. She had neither the time nor the patience for this shit.
Eve stepped between the two men, turning her back on the asshole and squaring off with her new partner. "Save it for the case," she said quietly.
To her surprise, he grinned like he was having the time of his life and shrugged his shoulders. "Okay."
Yup. Head case.
COLLAPSE