Don't you love finding cool stuff? Every once in a while I run into something crazily cool. This is one of those things. I don't have a room this could go in. Well, that's not quite accurate. I could put this in my dining room, but not once it was expanded.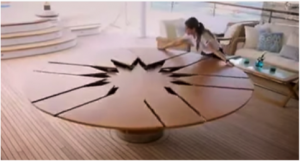 Well, I guess, technically, I could put it in the dining room when it was closed up and then pull it out into the living room when I wanted to expand it.
So, that settles it. I'm off to tell my husband we need this! Check out the video here.