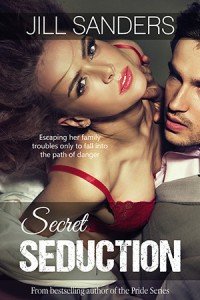 Check out Jill Sanders' SECRET SEDUCTION for free!
To Katie life was simple, she wanted; a little house in upper Boston, and four kids, fathered by her best friend, who she's been infatuated with since she was eight. After a devastating family secret is exposed, all she wants now is to escape the media hype that follows her everywhere she turns. Leaving her family, friends, and Jason behind, she travels to places she's only read about, to find a father she's never known.
Jason is on a mission and he's come half-way around the world to complete it. Despite his feelings for Katie, he won't let her resistance detour him, even if it means she'll never trust him again. As their world spirals out of control, their relationship will be tested and changed forever. If he can only keep them alive and out of harms way, he may have a chance to make everything right.