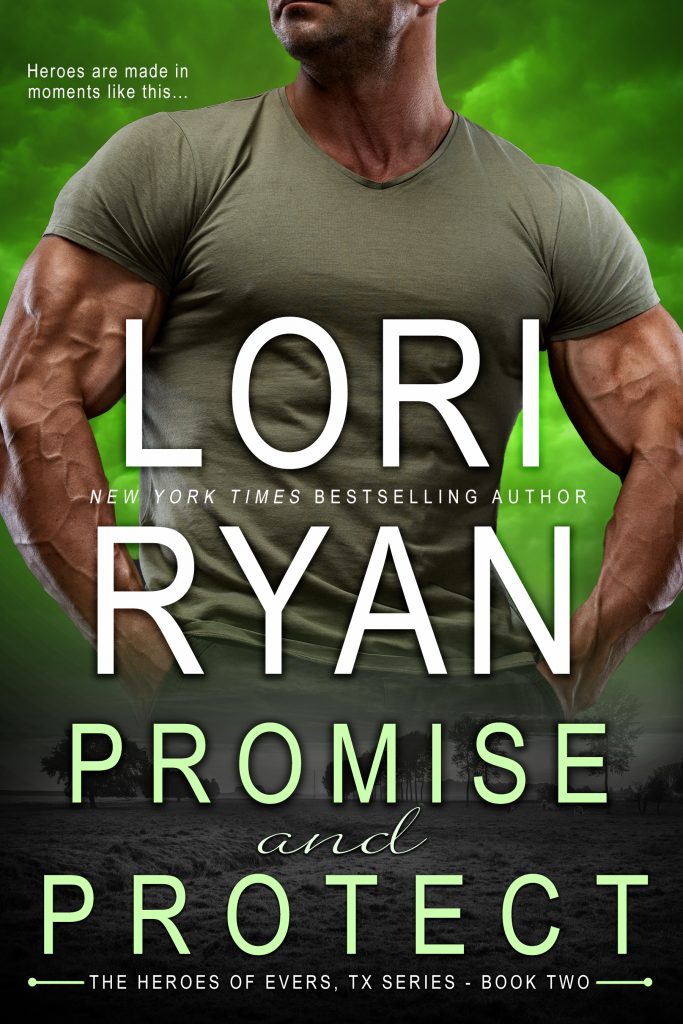 A perilous homecoming...
Promise and Protect is the second book in the heart-soaring and electrifying Evers, Texas, series by New York Times bestselling author Lori Ryan. A true masterwork of contemporary romantic suspense, it is the story of a beautiful artist returning home to danger, and to a love she never imagined.
Exiled by her father, the town sheriff, at age four following the murder of her mother, Katelyn Bowden is finally coming back to tiny Evers, against the wishes of her now-dying parent. The new sheriff, ex-New York cop John Davies, fears Katelyn's life is in jeopardy from a killer  who was never caught. Though she resents the handsome lawman her father has always loved like a son, Katelyn is confused by the passionate sparks that fly whenever they are together. But, will John be able to save her when a murderer finally emerges from hiding?
Promise and Protect was previously published under the titles Everlasting and Promise and Protect. Please check your ereader to be sure you haven't already purchased it! It is book two in the series, but it is a stand-alone complete story and can be ready in any order within the series.
Published:
January 26, 2016
Genres:
Excerpt:
Chapter One
Wow. Don't hold back, Dad. Tell him what you really think.
Katelyn Bowden leaned her head back against the icy tile wall of the hospital corridor and listened to her father and Sheriff John Davies argue. The hallway reeked of pine-scented cleaner, a smell that had always set her on edge.
Katelyn gritted her teeth. Her father was dying. She'd come home to be with him during his last weeks—maybe months if they were lucky—and now that she was here, he wanted to send her away. That was nothing new to Katelyn, but her cheeks heated at the thought of John hearing this from her father. Humiliation was becoming an all-too-common feeling for her lately.
READ MORE
"Of course I called her, Alan. You're in the hospital. Why wouldn't I call your only daughter and tell her to come home?" John asked and Katelyn wasn't surprised by the confusion in his voice.
Katelyn had heard her father's opinion on her coming home before, albeit a gentler version. She knew exactly what he would say. He probably hadn't ever shared his thoughts on the topic with John, though. John probably believed Katelyn stayed out of Evers, Texas—her father's hometown—by choice. People here couldn't possibly understand her relationship with her father. The only thing the people of Evers saw was a daughter who never came home. They had no idea it was her father who kept her at arm's length.
Katelyn frowned.  Her father didn't exactly keep her at arm's length. Well, he did and he didn't. It was complicated. He was loving and caring in his own way with her. Throughout her entire childhood, he'd rarely missed one of his monthly visits to her in Austin, and as sheriff of a large portion of the Texas Hill Country, that was saying something. When he was with her, he doted on her. He simply didn't want her here, in his world. Katelyn had learned at an early age: she wasn't ever going to be allowed to come home.
Her father's tone was harsh and unyielding as he spoke to John in his hospital room, drawing her back to the present. "You send her away, John. You tell her you made a mistake. She...she doesn't need to see me like this. I'll go see her when I'm feeling better."
Ah, a new argument. Now her father could say he didn't want her to see him in his current condition. There were some advantages to being on your deathbed, after all.
Katelyn knew if she walked in the room, her father would soften. He'd cajole and persuade instead of demand and order. He'd tell her she should be in Austin, where she'd grown up with her aunt. He'd say she needed to stay near her studio for the sake of her art, be near the gallery that sold her work.
This time was different, though. Katelyn wasn't going back. She would tell him she already had another artist ready to sublet her studio and she planned to put her condo on the market. She would tell him it was too late to go back. She hadn't had time to pack much, but she would hire someone to pack the rest of her things and have them sent in the next week or so. Whether her father liked it or not, Katelyn was coming home to Evers.
Of course, neither John nor her father knew she had another reason for being in town. She wouldn't tell her father the whole story. He didn't need to know she'd been mortified to discover the man she'd been dating was hiding a wife and newborn infant from her. Or that her so-called friends simply shrugged when she told them and said they thought she knew. Katelyn wasn't sure whether it said more about her friends that they thought she knew but didn't care, or more about her. Why would they think she would do something like that? That she'd be that kind of person? When the call had come from John telling her how sick her father was, Katelyn had grabbed at the chance to walk away from it all and start over.
The door to her father's room opened with no warning and John came storming out. He pulled up short when he spotted her, and she could see the pity on his face when he realized she'd been listening to their argument.
"Katelyn, I...." He reached out a hand, but Katelyn stepped away, crossing her arms over her chest.
"Have you had an update from his doctor? Do they think I'll be able to take him home soon?" she asked, putting the conversation firmly in the realm she wanted. She wasn't about to discuss her relationship with her father with anyone—least of all John Davies.
She had started hearing about her father's Golden Boy when she was twenty-two and he'd come to work for her father, who was sheriff at the time. Her father couldn't stop talking about the man who would take over his department when he decided to retire. About the man who had become more than someone he mentored. The man who was like a son to him.
When she met John two years later on one of her rare trips to Evers, nothing John had done had been able to make it past the grudge she carried for him. By the time Katelyn met John Davies, she'd been firmly past the point of ever seeing him the way any other woman might. His golden blond hair and mesmerizing eyes might have captured most women's attention. Of course, she noticed he was tall and built like a tank. A very well-muscled, armored tank with a six-pack to die for and sinewy arms that could make a girl melt. But, she didn't respond to his natural good looks or his ready, dimpled smile. She didn't care if he flirted with her or turned on that charm that seemed to come so easily to him. Katelyn had seen John through eyes tainted with the strain of her father's desire to keep her out of his life.
She and John had continued to see one another from time to time over the years. He'd come for dinner when she visited her father and, honestly, he was always open and friendly with her. If John noticed her dislike of him, he never brought it up. But, the resentment on her side remained.
Standing in the hospital corridor with him now, Katelyn was shocked to find she wanted to let John comfort her. She wanted to let him hold her and tell her everything would be all right, that her father would be well again, even though she knew that wasn't true. So she reverted to what she did best. Katelyn shoved her feelings and emotions down, swallowing them before they could surface to where she'd be forced to face them. She looked at John with what she hoped was a blank expression and waited for him to fill her in on her father's medical status. The faster she found out what was going on, the sooner she could see her father and get home to deal with the emotional turmoil that was threatening to take over, in private.
"Kate," John tried again.
"Katelyn." Oh, she knew she was being unacceptably rude, but she didn't want this man's pity. Didn't want it and didn't need it. "I can go find his doctor, if you don't remember all the details."
John leveled her with one of those looks he seemed to reserve only for her. The look that said he was simply patronizing her. The look that said he could read every thought and every emotion. How she hated it when he gave her that look.
"All right," John said slowly. "Why don't we grab a cup of coffee in the cafeteria, and I'll fill you in."
Katelyn didn't move to follow him. "I'd prefer to speak here and then go see my dad, John. I'm tired. I've just driven four hours, and I want to visit with him and then get settled in at home." There was that word again. Home.
So absurd, really. Her father's home in Evers hadn't been her home in years. Decades, really. Not since she'd been sent away when she was four years old. Not since her mother's murder.
"Fine," John said with a clipped nod. "The cirrhosis is as advanced as they thought it was when I called you earlier. There's no reversing the damage to his liver. He's not eligible for a transplant because he's flat out told his doctors he has no intention of giving up alcohol. He's got six months, tops. Most likely, a lot less."
Katelyn swallowed and tried to keep her face an even mask, showing little emotion, but she had to glance away from John and blink back the tears that were pushing their way out. How had her father hidden this from her?
Her voice turned to a whisper, even though she tried to put the strength of the anger she was feeling behind her words. "How did this happen, John? When…?" Katelyn looked down and gathered herself before meeting John's eyes again. "Why didn't you tell me he was drinking this much? How could you let him do this?"
She saw the wave of guilt hit John's face, and she felt bad for a moment before she managed to draw up her anger again. He should have told her. If he wanted to be a son to her father so damned much, he shouldn't have stood by and let this happen.
"I'm sorry, Katelyn. At first, none of us knew it was so bad. Once we figured it out, well, there didn't seem to be any way of stopping him, and honestly, we never thought things would get so bad so quickly. The doctor thinks he may have had an underlying medical condition that caused the cirrhosis to advance faster than it would have otherwise, but they just don't know for sure, yet."
His voice trailed off as though he didn't know what else to say, and Katelyn knew John didn't have any answers for her.  Her father had been forced out of office six years ago when his opponent in the election for sheriff ran a malicious campaign in a bid to win. He had claimed her father was too old to perform his duties any longer, harping on his age again and again. The campaign had gotten downright ugly and her father had eventually stepped down rather than lose. He asked John to run in his place, believing it was the better thing to do for his constituents. John was young enough and had plenty of respect in the community to win the election without breaking a sweat, but retirement had turned out to be way too hard on her father. Retiring without finding her mother's killer…well, that had been more than he could handle. At least without turning to drinking, apparently. And, drinking heavily, it seemed.
"Fine," Katelyn said, mirroring what John had said only a moment before. She didn't have much fight in her right now.
"There's more, Kate," John said quietly. He moved closer to her in the hallway and looked around them before speaking. "I didn't want to mention this on the phone, but your dad's been confused lately."
She stared at him, not understanding. "What do you mean, confused?"
"He's experiencing some dementia. They're not sure yet if it's a result of the liver disease or if it's something entirely separate like Alzheimer's, but he's having episodes."
"Episodes?" She frowned. She was so used to her father being sure of himself. Confident that he was right all the time. Much like the man standing in front of her now. John was always in control, always in charge.
Katelyn shut her eyes for a moment, trying to rein in her emotions. She would not cry in front of this man. She took a deep breath before opening her eyes.
"I don't understand, John." She couldn't picture her father confused or unsure, despite what John said. "What kind of episodes?"
"He doesn't always know who I am when I visit. Or he knows who I am, but he forgets the year. The other day, he thought he was still sheriff and I was his deputy. He thought he'd been injured and that's why he was in the hospital. He gets frustrated, angry, when he can't remember things," John said.
She nodded, feeling like she was losing the last piece of her family. Wait, she was losing the last piece of her family. Her mother was gone. Her aunt, too. Now, her father.
"You need to be prepared, Katelyn. Some days, he may not know you," John said, his voice low and almost apologetic.
She cleared her throat and raised her chin to deflect the too-sympathetic look in his eyes and ward off the hot tears that threatened to fall. "Anything else?"
John shook his head. "No, that's it. The doctor said he'd tell us tomorrow whether they'll recommend discharging him or whether they want to keep him here longer. He said we could talk then about hospice options."
She had the bizarre realization that everyone here probably thought nothing of John Davies being involved in her father's care and any decisions that had to be made. It was clear the doctors and nurses had no problem giving him information and asking him to make decisions, federal privacy regulations be damned. Apparently, small town tradition could override even the most stringent of laws. Did they even think twice about the fact that she was Alan Bowden's flesh and blood while John was just someone...?
What was John? Surely not just someone her father worked with. But, he wasn't family either. She wouldn't accept that. And she wouldn't let the nurses and doctors act as if he were family. She'd tell them tomorrow that John did not have authority to make decisions or even receive private information, for that matter.
"I'll speak to them tomorrow."
John eyed her with an expression she couldn't quite read. "He'll need twenty-four-hour care if he comes home. I can help, Katelyn."
"No need. Thank you for calling me, John. I can take it from here." Katelyn turned and shoved open the door to her father's room. Time to face the man who'd sent her away twenty-four years ago and certainly wasn't happy to see her back.
***
John saw the flash of anger in her eyes and watched as Katelyn pushed open the door to her father's hospital room, her face set and resolute. She'd always been strong. There was determination and strength evident in everything Katelyn did. But he'd never seen her quite so angry, quite so stubborn.
He had suspected she would resist his help. He wasn't exactly high up on Katelyn's list of favorite people. But, Alan Bowden had saved him years before. He'd somehow taken a man who had no reason to live, who had demons chasing him clear from New York City to Texas, and he'd brought him back to life. John owed Alan for that. He owed him everything. And he'd be damned if he'd let Katelyn shove him aside when the man who'd saved him from himself years ago lay dying in a hospital bed. She may not like him—even more now that she blamed him for letting her father drink—but she was going to have to deal with him.
He turned and walked down the long hallway toward the parking lot. The hospital was ten minutes outside of Evers, on the highway leading to Livingston Falls. He'd spent the whole day at the hospital, so he planned to swing by his office and check in with his deputies before heading home for the night. As John pushed through the exit door, the radio that lay on the left shoulder of his tan uniform crackled.
"Sheriff, you there?" Berta Silvers, the craggy-voiced dispatcher asked.
Roberta Silvers was most likely in her late sixties, although there was some dispute as to her actual age since she'd been celebrating her fifty-fifth birthday for at least the past ten years. Years of smoking left her sounding like a bullfrog trying to sing an opera. Berta was an indispensable member of his staff, and one of a team of people who helped him run the local sheriff's office in Evers. As sheriff, John had a whole host of duties, including overseeing the county correctional facility and prisoner transfers within the county. Together, everything often left him running on nothing more than fumes.
On top of it all, since Evers had always been too small to have its own police force, John was contracted to provide local law enforcement services for the town. Berta was not only his dispatcher; she was also largely responsible for keeping the local office running smoothly.
John keyed the large button on the side of his radio. "Yeah, Berta. What is it?" he asked.
"Danny wants to know if you're coming back into the station. He picked up Trent Everman again. Boy is looped out of his gourd. Danny wants to know if he should hold him or call his father."
John uttered a curse under his breath, but by the sound of Berta's croaking laughter, she'd heard it. He settled into his cruiser before answering her. "Was he driving?"
"Nope. Walking down Lilac Street, headed toward the bar to see if they'd serve him," she said with a laugh. She and John both knew no one at Pies and Pints would serve anyone underage. The owner, Manny, wasn't a stickler about much, but he didn't serve anyone without legal ID.
"Let him sleep it off in one of the holding cells. No reason to call his dad." That wasn't entirely true. At eighteen, Trent might no longer be a minor, but he was under the legal age for consumption of alcohol. Calling his dad wasn't an option, though.
Not only was calling a parent on an eighteen year old not an option, Trent's dad would beat him senseless for drinking again. John wanted the kid to quit, but not enough to let his dad go after him with his brand of parenting. It was probably that parenting style that had started the kid drinking in the first place. John would figure out another way to handle this situation.
He steered his car out of the hospital parking lot and onto Route 190, heading into the station to see if he could sober Trent up and talk some sense into him. Then he'd come up with a way to get the kid in to see a counselor or to join a support group or something. John sighed. He hated no-win situations, especially ones like this that had him turning his back on something illegal.
When he got there, it was clear Trent wouldn't be in any shape to talk with anyone for several hours—likely more. John left instructions with Danny to call him when the kid was sober and awake then left the station house for the night. Despite telling himself to go straight home, he pulled his patrol car to the side of the road across the street from Alan Bowden's house.
Katelyn's little car was in the driveway and the kitchen and living room lights were on. She'd made it home. John wasn't quite sure what he was doing there. He wanted to know how things had gone with her father at the hospital. He wanted to ask her how she was holding up after seeing her father lying almost unrecognizable in the cold, impersonal hospital room. It had shocked the heck out of John to see the effects of the cirrhosis, the swelling of his face and legs, the discoloration of his skin. He could only imagine what that must have done to Katelyn.
He wanted to comfort her, just as much now as he had when he'd seen her face at the hospital today. His fingers had itched, wanting to reach out and cradle her, hold her tight so her father's words wouldn't cut her so deeply. He'd known, though, she would never accept that from him. Katelyn would never allow him to comfort her.
She'd made it perfectly clear she didn't want to have much to do with John. But they would have to see each other if he was to be any help to her and her father. Which he would be, whether she liked it or not.
John scrubbed a hand over his forehead, trying to squeeze out the headache that had settled in behind his eyes.  If today had been any indication, dealing with Kate would give him a lot of headaches over the months to come. And yet, here he sat like an idiot, wanting to go inside and make sure she was okay.
John shook his head and forced his gaze off the house as he threw the car in gear and pulled away from the curb. The last thing he should be doing is sitting in his car wondering how Katelyn was doing and if she would slam the door in his face if he approached.
Probably.
Well, Katelyn could slam all the doors she wanted. Alan needed him now. That was all that mattered.
COLLAPSE