Saving magic should have been easy for the Boogeyman. Operative word: should.
Throw in the witch who gutted him two centuries before, the Jersey Devil, and the Glass Slipper Initiative, and he was screwed. Oh yeah, and he also had to guard his heart from the one witch who had the power to bring him to his knees. Not a problem.
This novella is part of Robyn Peterman's Magic and Mayhem World. If you love Robyn Peterman, you won't want to miss meeting Baba Yaga's baby brother, the Boogeyman. Lori Ryan brings her signature suspense, humor, and steam to the Magic and Mayhem World.
Buy it today and fall in love with every child's worst nightmare!
Haven't heard of the Magic and Mayhem Universe?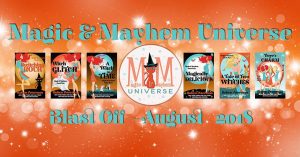 It's an amazeballs series of books set in the world of Robyn Peterman's Magic and Mayhem series. Robyn's books are laugh-out-loud-til-your-side-hurts-and-you-pee-your-pants funny. I promise. You're going to love them.
Check out the rest of the incredibly awesome books in the Magic and Mayhem World. You've got a long list of authors to binge on! (click the image to go to the main series page)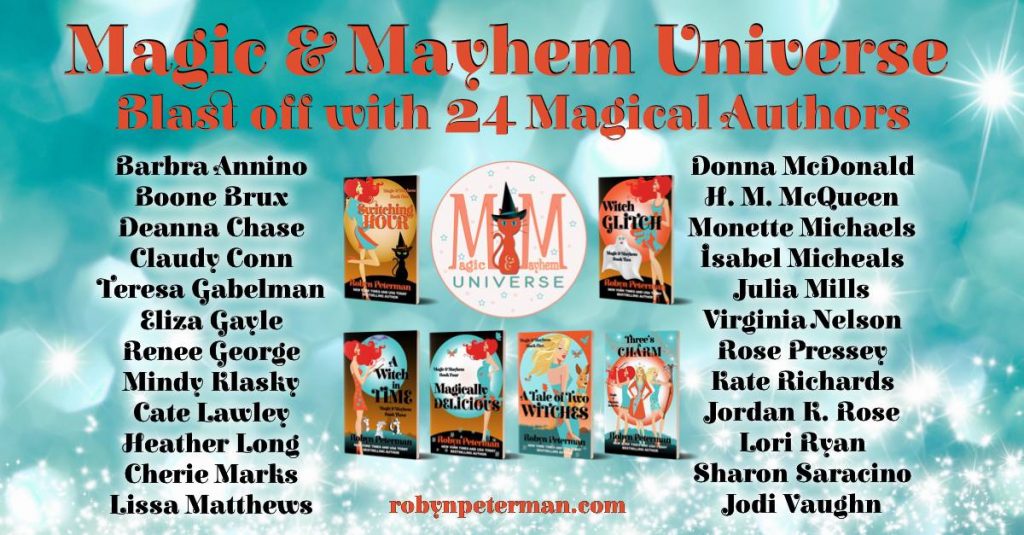 Published:
June 22, 2016
Genres:
Excerpt:
Chapter One
"Slithering fuck." This was the last thing Gideon needed.
"That's a new one." He'd know that voice anywhere. Looking over his shoulder, he wasn't the least bit surprised to see his sister, Carol—known to every other witch and warlock in the world as Baba Yaga, the leader of all witches and warlocks—grinning back at him. She wasn't the least bit repentant that she'd just summoned him.
"I was busy. You can't just summon me whenever you damned well please," he said, even as he tugged her into a bear hug. He couldn't help it. He was a softy for her, even when she pissed him off.
READ MORE
She scoffed. "I'm the only witch who can summon the Boogeyman. Being Baba Yaga has its benefits. Why wouldn't I take advantage of that from time to time, baby brother?" This was said in the tone that indicated they were speaking only as brother and sister at the moment, not the Boguman and Baba Yaga, two of the highest positions in the magical world.
"By a minute," Gideon grumbled. As his twin, she never once let him forget he'd come into the world a minute after her. "And it's Boguman. The correct title is Boguman."
"If I have to be Baba Yoda, you can put up with the Boogeyman every once in a while."
"What the hell are you talking about?" Gideon flexed his fingers. He really didn't have the patience for this right now. He'd been right in the middle of teaching a little boy not to tease his brother about wetting the bed. And he had a long line of unruly children to visit after that one.
"Never mind," she said with a wave of her hand. "Besides, it's been over fifty years since I last summoned you. I'd hardly say I'm abusing the power."
"What do you want, darling sister?"
"Fine." She conjured a chair and sat. It was the first time he noticed she wasn't dragging around the ugly little warlocks she normally had with her. Small favors, and all that. "I have an emergency."
"Uh huh." Carol's emergencies typically had to do with her pet porcupine escaping or a prom dress mishap she thought he could somehow fix. Then again, maybe he wasn't giving her enough credit. It had been a long time since she'd had one of those episodes.
She stomped her foot. That didn't worry him, but the smile that crossed her face a second later did. It was the smile that said she was about to do something he would want to strangle her for. "Fine, if you don't want to take the time to listen, I won't bother to explain."
With that, his twin promptly bound his feet to the ground—a trick she'd learned to do using roots back when they were kids. It never took him very long to break loose, of course, but it always allowed her the two seconds she needed to get away. With another curse, he rolled his eyes to the heavens, although he wasn't sure why. He'd given up praying to the Goddess a long time ago.
A quick zap freed his feet, but not before he smelled it—a scent that threw him back two hundred years. Not quite lilacs, more a combination of lilacs in the spring and summer waves at the beach. At one time that scent had meant everything to him, but now all it did is make his blood boil instantly. What in the living hell was she doing back here? And why had his sister set him up to be here when it happened?
"What the hell is this, Carol?" he yelled to the sky, because his sister was nowhere to be seen. If he couldn't yell at her, the sky would have to do. "Answer me! You brought her back?"
"Of course not, silly." Carol's voice came from nowhere in particular. "She brought herself back. I just felt her coming and thought you should be here. She'll need you."
A form took shape at the top of a small rise in front of him as the air left Gideon's lungs. He hadn't felt like this in a long time. Like he'd had the wind knocked out of him in a visceral blow. There was only one person who could do this to him. And now she stood before him at the top of the hill, arms raised high as if announcing her arrival, as gorgeous and bewitching as ever.
She beamed as she looked around, as though she thought there should be some kind of band or fanfare announcing her arrival. She always had liked a party. And back in the day, he'd loved that about her. She was fun and exciting, and things were never boring when she was around.
He'd grown up a lot since then.
He opened his mouth to yell for his sister again, but the love of his life moved toward him and stopped him cold.
She looked just as he'd remembered her. Just as she'd lived on in his dreams for more than a century and a half. Wild black locks and creamy skin. The taste and feel of that skin had never left him. It haunted his dreams, whether he was awake or asleep. It didn't matter. She was always with him, even though she was gone. He'd felt her everywhere.
That was probably one of the reasons he'd never been able to move on. That and the fact that he no longer had a heart to give. Sure, he'd slept with other women. He wasn't a freaking priest. But it was sex and nothing more. There'd never been any chance of giving his heart to someone else. Not when she'd crushed the damned thing beneath her heel on the way out the door.
He was about to be down one twin. Never mind waiting for Baba Yaga to summon him again. When he was finished here, he was going to hunt down Carol, or Baba Yaga, or Baba Yodels, or whoever the hell she was, and throttle her good. Carol knew damn well what she was doing when she left him stranded here. And she knew damn well this was the last place on earth he'd want to be.
He watched as the woman he both loved and hated with all his being stepped forward, arms still raised as if gracing him with her presence. She smiled that smile that made his heart flip over and beg for more.
And fell.
She tumbled head over heels with a few rather inelegant oofs and achs and maybe a curse or two in there. Gideon had to clench his fists against the urge to catch her, and when that pissed him off, he bit down on his tongue. Hard. He was not going there again. No way in hell he was getting involved with her again. No way in hell he'd let her tear what little there was left of him apart again.
"Aghoof." The sexy vixen sat up, brushing her mop of curls back out of her face as she spat a wad of grass from her mouth and looked around.
***
That was a bit of a rough landing.
"I had hoped that would go a lot more smoothly." She picked herself up and brushed off, looking down with pleasure at the form she'd taken. Not bad, not bad at all. A cute skirt, purple high-heeled shoes, little pink painted nails. All in all, not a bad package. She'd done good.
The ride had been a bit dizzying, though.
"Oh!" She spun as a growl came from her right. No, not just a growl; it was a guttural, inhuman sort of sound. But it came from a god. An absolute drop-dead gorgeous blond bombshell of a god. Of course, it wasn't like she had a frame of reference for that sort of thing. For all she knew, maybe he was on the uglier side of the scale.
But no. That wasn't possible. He was strong, with arms and a chest that stretched the fabric of his shirt taut and made her fingers tingle to reach out and touch him. He had gorgeous blond hair that would probably feel thick and soft, and so good in her hands. His mouth looked positively sinful, and those eyes seemed to heat her from the inside out. And there was something about him that drew her to him. That called to her, despite the growl and the look in his eyes.
Dark eyes. Oh, and right now, they were focused on her and looking madder by the minute. Oops. She'd messed up somehow already.
"I'm sorry," she said, taking a step toward the warlock. "Is something the matter?"
"Something the matter?" He said each word slowly and it was punctuated with—well, she didn't know with what. Anger? Hatred, even? That didn't make sense. She had only just arrived. Certainly he couldn't hate her for any reason.
She raised her arms and took a deep breath, ready to announce who she was to the world. Or, well, to him. Having never taken corporeal form, she had to admit, she was a little excited to let everybody know she was here.
"I"—she paused for effect—"am—"
Before she could make her big announcement, the rude beast-slash-god cut her off. "I know exactly who you are. Blah blah blah—anchor of all magic—blah blah blah—corporeal form—blah blah blah." He scowled her way. He really was a nasty bear of a thing. "I know exactly who you are and I don't need to hear any spiel, Gwendolyn."
"Gwendolyn?"
"Yeah, it's your name. Gwen for short."
"Oh. All right." This warlock was clearly insane. She'd never set foot in the world before in this form. He couldn't possibly know her. "I'll just…um…" She glanced around to see if there was anyone else nearby. She needed some excuse to zap herself into another area. She had clearly entered this plane of existence in the wrong location.
"Oh no you don't. Let's hear it," he said before she could put much distance between them.
"Hear what?"
"Hear exactly why you're here and what you need. I'll give you ten seconds to spit it out. I don't have a whole lot of patience for this right now." The growl was still there, punctuating every word he said.
She put her perfectly manicured hands to her hips and scowled right back at him. She didn't need this on her very first day. She had important things to do. Very important things to do.
"It just so happens I'm here on a very important mission. Very important." Perhaps if he understood the very part of things, he would be more hospitable. Maybe even helpful. She had a mission and a plan, and she wasn't about to let him stop her.
The growling got louder. Okay, maybe she'd try a different tactic. If he understood what kind of danger the world was in, maybe he'd take this more seriously.
"The world is in grave danger." There, that ought to do it.
He just stared back at her. Arms folded across the overly broad chest of his. Were chests really supposed to be that broad? She didn't know. She didn't have a lot of experience with warlocks. Every once in a while she got a peek of one here or there when a window opened between her plane and this one, but for the most part, she wasn't able to see much from where she was.
Forget it. She'd just have to go find somebody who would listen to her. Maybe if she concentrated really hard, she could find Baba Yaga and tell her what was going on. Or the Magical Council. Yes. That was a very good plan. Finding Baba Yaga or the Council should be step one.
She turned and looked around, then struck off in the direction of the nearest road. Well, what looked like a road. It was pretty far in the distance. Surely, there had to be another witch or warlock around here who could help her. Maybe they'd know how to reach Baba Yaga. Maybe there was some witchy magical hotline you called when you needed to reach the leader of all witches and warlocks.
"Not in your dreams, Gwen." One broad arm reached out and grabbed her around the waist, hauling her back. "Explain yourself. Now."
She sputtered. "You can't just toss me around like a sack of beans."
"Potatoes."
"What?"
"Potatoes. It's sack of potatoes, not beans," the beast said, looking at her like she was the one whose sanity had taken a little detour for the day.
"Well, what do beans come in? Don't they come in sacks, too?"
Now his mouth hung open as he stared at her.
"Well, they must come in something, and a sack seems just as likely as anything else. I mean, surely a sack would do," she said, more to herself than to him at this point.
"Unbelievable," he muttered before turning and yelling at the sky, confirming what she'd thought about his sanity being AWOL. "Carol! Bring your skinny little ass back here, Carol! I might not be able to summon you, since you're Baba Yaga, but I can sure as hell tell Mom and Dad it was you who broke Dad's favorite chalice!"
Gwen grabbed the man's arm. "Wait! You know Baba Yaga? I need to see her. You must bring me to her."
He whipped his arm free.
Oops. Okay, mental note. The big guy's not okay with touching.
"Carol!" He continued shouting at the sky.
Gwen crept backward inch by inch. It suddenly seemed important to put some space between herself and the madman, even if she did want him to take her to Baba Yaga.
"Now, Carol! Or I'm paying Mom and Dad a visit. You might be the most powerful witch in existence, but do you really—"
"All right, all right!" came a disembodied voice. "I'm coming."
Gwen looked around, trying to find the source of the voice. Nothing.
"I'm bringing backup, though, baby brother." The disembodied head of a beautiful witch suddenly hung in the air in front of them, making Gwen jump back another foot.
"Oh for heaven's sake, don't be so melodramatic," growled the beast.
A body appeared to go with the head, along with a witch, a warlock, and a werewolf. Gwen squealed. A werewolf! A real-life werewolf. Who cared if there was a crazy man in their midst? She was about to meet her first werewolf! This was getting exciting!
Chapter Two
Goddess help him, he needed to get far away from this woman. Gwen was actually squeaking, although he couldn't begin to imagine why. He turned his attention back to his sister and her entourage. This time, Carol had her freaky old entourage of warlocks who looked more like trolls behind her, along with a witch, a warlock, and a werewolf standing by her side. The stink of the shriveled old warlocks hit him, eating away at his patience even further.
"Take care of this." He jabbed at the air in the direction of Gwen, then turned to leave.
"No can do, little brother." Now Baba Yaga was smiling at him, and it was that serene, eerie smile that said she knew something he didn't. Damn, things never ended well for him when she smiled like that.
"Brother?" the witch with his sister yelled. "Baba Yippy Skippy has a brother?" She seemed to flinch as if hearing what she'd just said, and eyeballed his sister as though waiting for retribution for the Yippy Skippy thing.
It was then that Gideon realized who Carol's entourage was. Even though she was Baba Yaga, his sister still believed in writing him letters routinely. Big surprise—those letters often overshared details about her life and the lives of those she knew. He was pretty sure she believed they should share everything as twins. Everything.
He'd heard all about Zelda, the witch who'd taken over for her Aunt Hildy as the Shifter Whisperer. Thanks to his sister's need to blab, he knew a little too much about Zelda and her relationship with Mac, the Wolf Shifter who was Zelda's mate. He knew, for example, that until recently Zelda had refused to admit Mac was her mate and only wanted to screw his brains out—his sister's words, not his—and about Zelda's father, Fabio, who'd at one point been Zelda's familiar thanks to a curse by Zelda's mother, who'd turned him into a cat. When Zelda ran him over and killed him—temporarily, given his nine lives—she ended up in witch prison, which was how she had come to know his sister.
All that was in the past now. Fabio was no longer a cat, Mac had won Zelda's heart, and Zelda was being groomed to one day be the next Baba Yaga, although she wasn't privy to that little fact yet.
Yeah. More than he really needed to know, since he wasn't in high school. Or a girl.
"Yes, I have a brother." Baba Yaga turned to Zelda with a scowl that would have made Gideon laugh if he hadn't just had the shock of his life watching Gwen return.
"Baba Yack has a brother," the witch said to no one in particular, then slapped both hands over her mouth. "It's like repeated brushes with death have removed all concern for self-preservation," she mumbled. Carol gave Zelda a warning look but didn't say anything. If Gideon wasn't mistaken, his sister seemed to have genuine affection for the younger witch. That was unexpected.
"Gideon, meet Zelda, Mac, and Fabio, my boyfriend."
"Your what?" Gideon yelled, and this time, he did let his anger bubble up to the surface, as steel spikes broke through the surface of his skull and his face erupted in frightening boils and blisters. When he wasn't in Boguman form, he was as handsome as any other warlock. But when he let loose with his Boguman side, things got ugly. Fast.
When he showed his Boguman side, he could evoke fear in even the strongest of warlocks. Children would invariably run screaming at the sight of him, and even most grown witches and warlocks would shrink away at the sight.
Mac held his ground, a small growl coming from his chest, confirming what Gideon had thought about his strength of character and status as an alpha. Fabio flinched, but stood strong. Zelda screamed and ducked behind Mac, then stared in fascination.
Great. She was one of those. Some witches and warlocks became a little obsessed with being frightened by him. He guessed it was similar to the way people watched horror movies. They seemed to get a thrill out of scaring the pants off themselves. Zelda reached an arm toward him, so he curled his lip in her direction and let the three-inch fangs he normally kept hidden away show.
She giggled and jumped back with a yelp before Mac caught her with an indulgent smile—gag.
Gideon took his warlock form again, locking down on the anger he was feeling for the time being. He'd release it again when he knew where the hell to aim it—other than at his sister, who at the moment was staring at Gwen. He glanced between the pair. Gwen looked as serene as Carol, seemingly unruffled by his display of teeth and steel.
He hadn't been the Boguman when she'd last appeared on earth, but she didn't look the least bit ruffled by his sudden change in appearance. In fact, he realized suddenly, she'd shown no hint that she knew him at all. Not even a glimmer of recognition. What the hell was that about?
He'd taken the position of Boguman after she left. When he had nothing left to live for and no reason not to walk the earth scaring the pants off children who misbehaved. Although nowadays, his role had changed. Now he only scared children who were cruel to others. He was like the equivalent of a scared straight program for the magical world. But being the Boguman didn't do anything to alter his appearance when he was in warlock form. She should know exactly who he was.
"Zelda, Mac, Fabio," his sister said. "This is my brother, Gideon, and this is Gwen."
Gwen raised her arms once again. "I am the anchor of all magic." She beamed, and he had to look away. She did look gorgeous when she wanted to. Apparently, right now, she wanted to dazzle her audience. There was an almost ethereal glow to her as she spoke. "I hold inside myself the very same magic that is inside every witch and warlock. Your magic is anchored to me to maintain balance and order in the magical realm. I've taken corporeal form for the first time ever to save, well, to save magic."
Typical. She always was concerned with herself and no one else.
Gideon stepped in. If Baba Yaga wasn't going to put an end to this, he would.
"It's not the first time you've taken corporeal form. You were here two hundred years ago." He dismissed Gwen, letting her ponder that little nugget, and turned back to his sister. "What the hell are you playing at, Carol? You knew she was coming and you brought me here instead of warning me to stay the hell away?"
She merely shrugged. "You're needed. Plain and simple."
"What do you mean I've been here before?" Gwen stepped forward, reaching to touch his arm. He stepped away before she could.
"Two hundred years ago, you came here at the behest of the Goddess to destroy a powerful tool that could be used to harm the balance of power and throw witches and warlocks into a civil war." His sister was speaking in much too placid and tolerant a tone for him.
"You came, discovered you liked chocolate and wine, then took off when you'd had your fun." And had me, he added in his head. "Apparently you got to forget all that while we had the pleasure of holding on to those memories. Yay for us."
He didn't bother to point out that he'd also had to feel her presence for the last miserable two centuries of his existence. Magic was, after all, everywhere. In everyone. And since all of magic was tethered to Gwen, the magic that ran through him ran through her as well. She was, quite literally, a part of him. And damned if that wasn't a fucking punch to the ass.
Gwen's elegant brows pinched together as she thought. "Nooooo, I think I would remember if I'd done this before. It took quite an effort, I'll have you know. It's no small feat to take corporeal form."
"I think maybe you got a few things wrong," Zelda said, then stepped forward and gestured toward Gwen's feet. "Um, if you'd like, I can just make a few adjustments."
"Oh!" This came from Carol, who seemed to be treating Gwen like a long-lost friend. "Yes, Zelda, go ahead."
Zelda raised her hands and waved them in Gwen's direction.
"Goddess on high, hear my call. Cinderella's not quite ready for the ball.
She's currently looking a little like Humpty Dumpty,
Put things in the right place, make it all look nice,
And while you're at it, please give her a dress that's not so frumpy."
As Gideon watched, lavender lights shot out from Zelda's fingers. In an instant, the small errors Gwen had made were corrected. Her feet were now on the proper legs—yes, she'd had her left foot on the right leg and right foot on the left leg this whole time.
She now wore an even shorter cute little black dress that showed off a hell of a lot more of those milky white thighs than he needed to see. With a final zap, Zelda turned Gwen's ears right side up, trimming her hair into a shorter cut. Great. Now he could see her neck and shoulders.
"Slithering fuck," he muttered again, before speaking up. "Tell us exactly why you're here so we can fix whatever the hell threat there is to you and return you to where you came from."
"Gideon! That's enough." Carol turned from him to Gwen. "But yeah, you really do need to tell us why you're here. I haven't picked up on any threat to magic."
Gwen's job as the anchor was simply to bind all of magic to her so that balance was maintained in the universe. She also monitored things to some extent, but for the most part, she didn't actually act on any of what she saw. That was left up to Baba Yaga and the Council. Of course, there had been that one time the Goddess sent her to restore order, but that was another story altogether. The situation then had been critical.
"It's not a threat, Baba Yaga. Not exactly." Gwen looked from Carol to Gideon and back again, twisting her fingers together.
"Then why are you here?" he barked, and felt horns spring from his shoulder blades and the top of his head. Dammit. It was rare for him to lose control of the tools of his trade like that. The Boguman should only transform when he absolutely had to. With a roll of his shoulders, the horns receded.
"Someone is siphoning magic."
"Excuse me? What the monkeynuts did she just say?" Zelda screeched.
"Oh my word, Zelda, get a grip on that mouth of yours," Carol said. "And Gwen, explain yourself. What in the name of the Goddess are you talking about?"
"Someone is drawing more magic than they were born with. Like they're siphoning it somehow. I don't know if it's a witch or a warlock. It's someone who isn't particularly strong, but they've somehow managed to draw a lot of power, which really makes very little sense, when you think about it. They simply shouldn't be capable of it."
Gideon watched his sister's face to see if she'd ever heard of this kind of thing before. He'd always been able to read her. And right now, her face said she wasn't feeling altogether calm about the situation.
"So, take it back!" Carol snapped at Gwen, all placid, calm Baba Yaga focus gone now. "You're the anchor. Take it back."
"All right, back this train up," Zelda said. "Some of us need the CliffsNotes version of things here. What do you mean, someone is taking more magic than they were born with? For that matter, what do you mean, you're the anchor of magic?"
"Didn't you go to even one class in high school? Just a single course?" This came from Fabio, and Gideon remembered he hadn't known he had a daughter until Zelda was an adult.
"If you wouldn't mind, just the quick and dirty version for those of us who were sick that day," Zelda said primly, not fooling anyone.
Gwen raised her arms again, but Gideon cut her off. He could only take so many of her sanctimonious speeches in one century. "Every witch or warlock is born with a certain amount of magic in them, but that magic is also anchored to the universe. Tethered, in a sense, to Gwen. She's in all of us. We each only have a certain share of her, a certain type of magic. It's impossible to pull more than your share or to tap into a kind of magic that isn't yours. If you aren't a creator witch, you can't draw on creator magic, and so on."
"Then how did I get my Aunt Hildy's magic in me?" Zelda asked. Gideon noticed she didn't mention her mother's magic, which she also currently had in her body. He would guess that wasn't one of her more pleasant memories. She'd pulled the magic out of her mother, rendering her human after her mother had tried to kill her. That story had taken Carol twelve pages to write.
"Magic can be passed from one witch to another, or even taken, if the witch or warlock doing the taking is powerful enough." Baba Yaga frowned. "But no one should be able to draw it directly from the source, so to speak."
Gideon needed to move things past this little Magic 101 lesson. He needed to get back to his work. Back to his life. He had a life that needed living, and it didn't include standing here listening to a tenth-grade history of magic lesson.
He did have a life to get back to. Sort of. All right, so it wasn't the greatest life on the planet. He hung out at the bar a few nights a week with the Jersey Devil and a few Centaurs who were trying to convince him to join their pinochle group. So he didn't have much of a life. But that didn't mean he needed to waste his time helping Gwen solve her current crisis only to have his heart trampled again when she left. Because that was what she would do. She'd stomp on it all over again as she made tracks for the nearest exit as soon as magic was out of danger.
"All right, well, I'll just leave this to you, big sister." He tossed in the title he rarely granted Carol, hoping she'd go for it and let him leave. "Looks like you've got a good handle on things here." Before Gideon could move, the gang of gnarled-ass warlocks Carol had inherited when she took the role of Baba Yaga began yammering something about another mission and danger all around them.
"Sorry, baby brother. They're right. We're on our way to put out another fire. Have to hunt down a nasty little band of chimera who've been, uh, who've been, um—"
"Chima-ering," Zelda said awkwardly.
Before Gideon could say a word, the group was gone, leaving him and Gwen staring at empty space.
"The chimera situation is getting out of control. I need you here handling this, Gideon. I'm counting on you to handle this!" came Carol's disembodied voice. She really had to stop doing that. Both the disembodied yelling thing and preying on his soft side. He might be the Boguman, and he might be madder than hell, but he would never leave his sister high and dry when she needed him. Even if it meant spending time with the woman he both loved and hated with all his being.
COLLAPSE